Hi Folks
Hope you are all having a grand January and the cold is not getting to you too much.
Managed to spend a good couple of hours painting my Arabs this morning on the early shift but I'll be honest I am now getting bored. Only a few more hundred to paint...mind you when they are finished Ill be a happy man.
With my daughter back this weekend from boarding school I sent her and Mrs Shed off shopping, and Shedson was mucking around with some friends, pefect.. so I could get on with a new project.
Actually I shouldn't really say NEW given I have already tried this before...
If you have been following the blog since the beginning you might remember this beast...
http://shedwars.blogspot.co.uk/2012/06/building-boat-part-2.html
This was a six foot long beast and quite frankly I never got further than this. For over three years this has been languishing on a shelf waiting for inspiration. However with pulp games going to feature heavily in the shed this year I decided to start on a smaller version which will hopefully be more playable, simpler to build and work for one of my other periods - VBCW
So here goes.
The hull was cut out from pink foam. I have a little bit left and desperately need to source more. The cuts were made using the hot wire foam jig.
The boat is going to be about 70cm long and 15cm wide when finished.
Next up is clad the hull. I did buy some foam core but soon realised that this was going to be tough to curl around the bow and stern. Rather fortunately Mrs Shed had been sent some rather lovely flowers in the post that came in a great big cardboard box. The card was perfect for my needs.
I measured up the circumference of the boat and cut out the hull sides in two pieces. Liberally coating the sides of the pink hull in pva I wrapped the sides around the boat and pinned to position.
The pins look so good as rivet heads Ill be added hundreds more of these once the sides have been stuck down and, dried and trimmed.
The above picture is astern shot. You can just make out one of the joins at the bottom of the picture and other is opposite. These should disappear in the painting phase.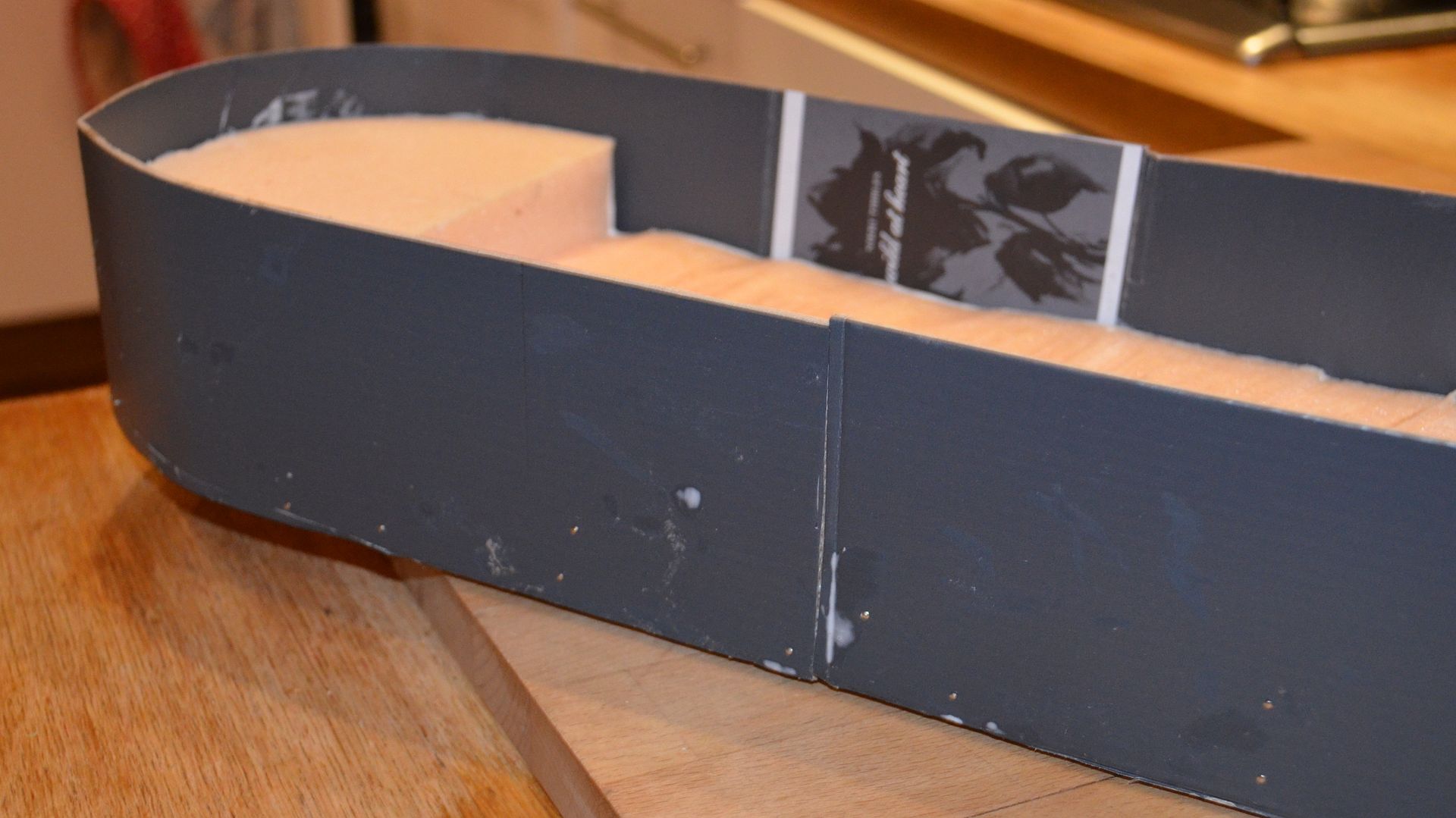 Can you see the pins?
And a final photo shows the size of this boat with a 28 mini
As said above the hull sides are going to be trimmed down midships. Once this is all dry and sturdy Ill be focussing on the base deck and then start on the superstructure.
If I am lucky this will get done tomorrow...
Part 2 is now up on the blog here
http://shedwars.blogspot.co.uk/2015/01/pulp-tramp-steamer-starting-to-look.html
cheers
if you are interested in this you might want to see the Pulp Submarine Build
http://shedwars.blogspot.co.uk/2016/10/28mm-pulp-submarine.html