Hi Folks
As promised in my last post I have started on my latest terrain project, the Peninsular Village. Although if truth be told this could be used for a variety of periods and genres.
Effectively I am re-purposing and tarting up the buildings I bought on ebay earlier this year. These have all been assembled and painted by somebody else (if you are reading this thank you - they look great).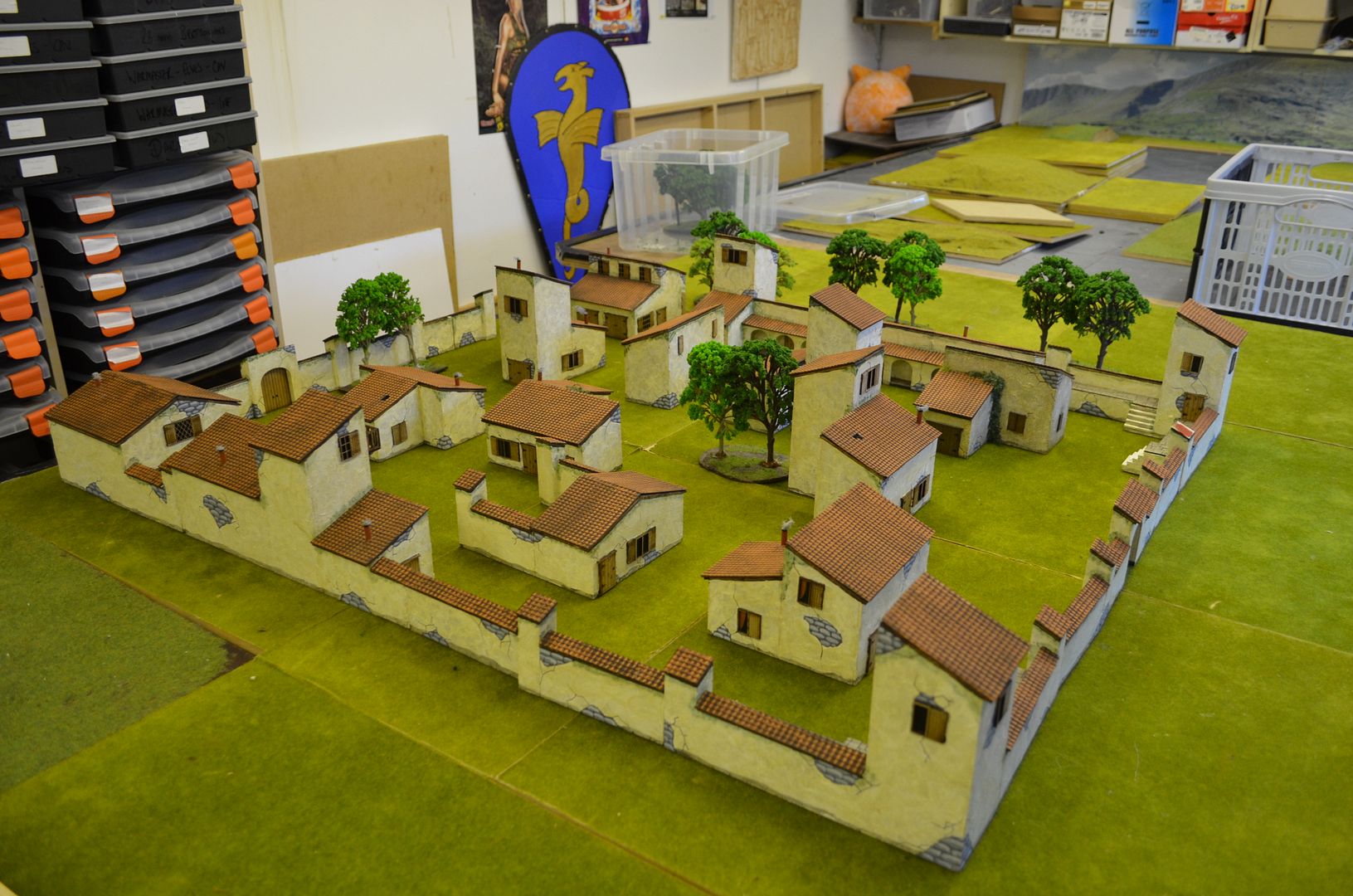 The original ebay purchase - think I spent £80 on this lot
The issue I had with them was that they looked slightly bland sitting on my green baseboards and it was difficult to denote one particular build up area from another. I also wanted to use them to create a series of farms, convents, monasteries etc.
With a plan sitting in my head I decided to mount these on 30 cm square 5mm plywood bases. I am hoping that the ply will be thick enough to prevent warping. My usual terrain bases tend to be hardboard but this material is guaranteed to warp past a certain size. For the princely sum of £13 my local B&Q hardware store was able to cut up an 8ft x 4ft board into several squares plys a few rectangles (60cm x 30cm).
It was then just a simpler task of placing the current buildings in a series of patterns on these boards. By going down the square route these can be reconfigured into a number of different size villages and ham;lets or I can use the boards individually. From a black powder ruleset perspective each board counts as a built up are and can hold one battalion of troops.
The buildings themselves were fixed to the boards using hard as nails glue and left to dry overnight.
Aside from the Church and Tower (still to be mounted on boards) I have now created a village with 9 base boards - that's almost 1 metre square. Whereas the walled compounds are square on the bases the individual houses have been placed at angles to reflect the fact that these towns are rarely built on grids.
Four boards come together to create a town square in which will sit a fountain purchased from Grand Manner. I'll also put together some statues for the town.
The building in the top right of the photo below was over 30cm long so this sits on a base 30cm x 60cm. It looks a bit like a monastery
The next job is to then dress the boards. I decided that flagstones would look good and using 2mm eva foam I cut out hundreds of small squares and rectangles. These were fixed to the boards using PVA. As you can see from the pictures I am about half way through this. It is a laborious task and patience is required.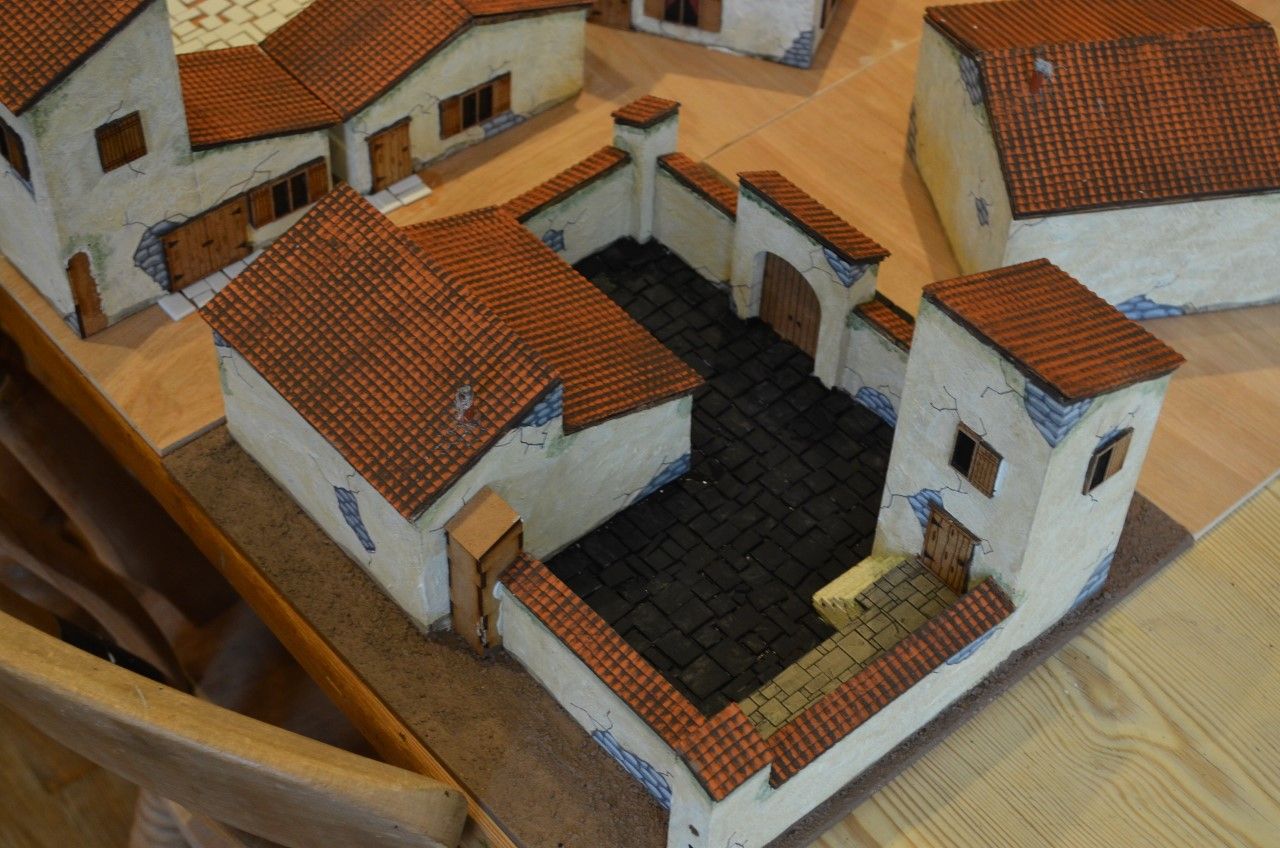 This compound has had the tiles painted black and ground work started on the outside
Once dry these are then painted black specifiaclly allowing the paint to seep betwen the cracks. More on the progress of this in the next post.
There's more, as I mentioned in the previous post I have added to my village two purchases from Charlie Fox Trot models. These are the small church and the tower. Both can be found in their pantile range.
Once assembled (they are made of mdf) I added stone work to the corners using eva foam. This adds further depth to the model and makes these models stand out. The bare MDF was then coated in a semi liquid filler mix (consistency of thick gravy) and allowed to dry.
I wanted these two buildings to tie into the rest of the buildings and fortunately one of my tester pots of emulsion paint was an almost perfect match. The walls have been given a couple of coats with the added stonework painted white.
The first couple of paints - still not finished - doors windows and weathering to be done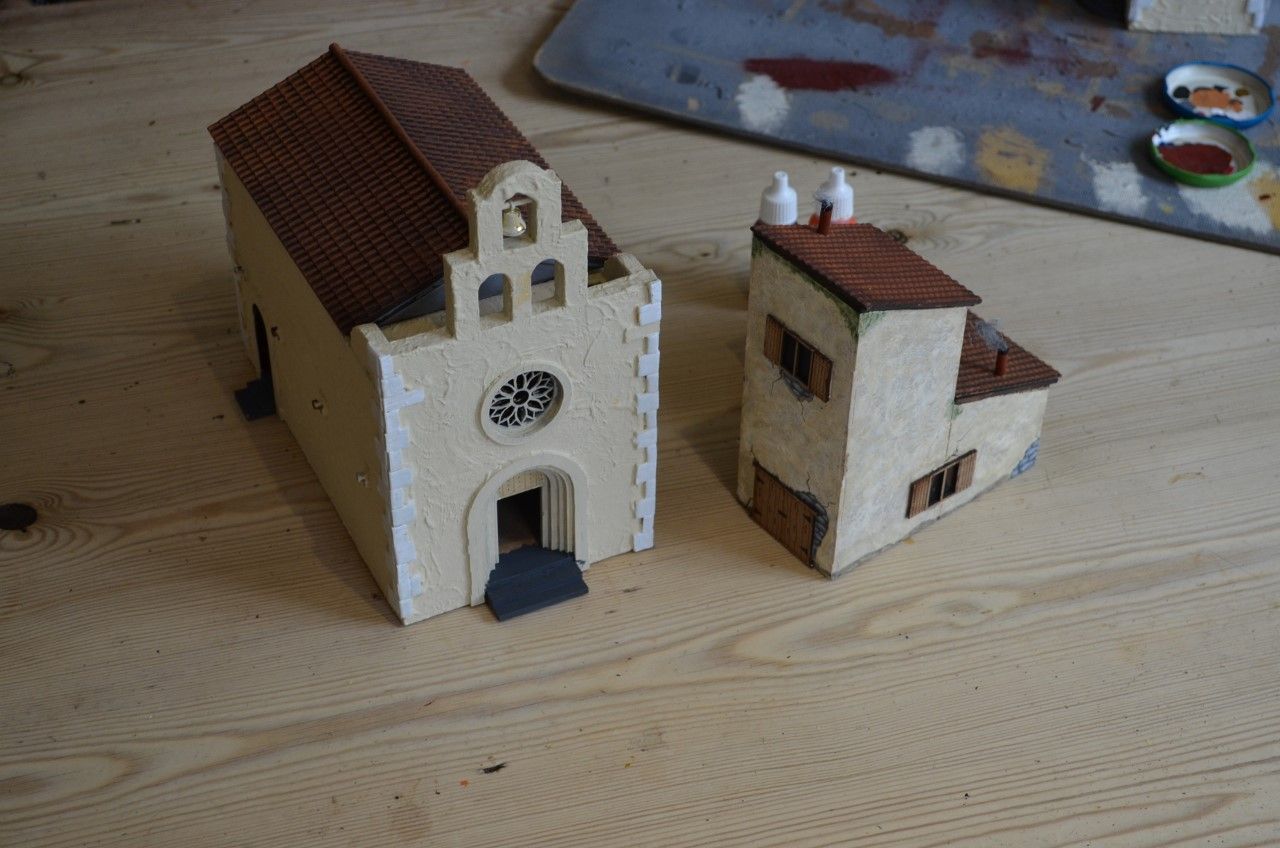 As you can see these match the colour of the original buildings
The resin roofs were primed black and then drybrushed deep red and terracotta.
Come back soon