Hi Folks
Once again apologies for the delay in posts but real life continues to get in the way of the hobby. The good news is that rather than being tied up with work the last three weeks have been spent holidaying on a boat in the med followed by some R&R in Portugal.
Sadly these adventures all came to an end last week and I had to go back to work. But just before the morning commute beckoned I was able to squeeze in a show.
Colours at Newbury was a great visit and all credit to the organisers for putting on a superb show. In fact I think the demo games on display were some of the best seen in recent years. A few pictures follow.
Whilst at the show I was able to introduce myself to Guy Bower Of WSS fame. Guy has taken on board responsibility for looking after the umpires for the Great Game (the Waterloo refight in Glasgow next year) - as I mentioned in my last post I was successful enough to be asked to be an umpire. Very excited.
More here if interested
http://www.waterlooreplayed.com/
If there are any of my followers here on the blog also involved I'd love to know
Shopping of course is a must at these shows and I managed to part ways with a few quid on more plastic dark age figures for my Hastings project. At the moment the plan is to field around 1000 28mm troops and I think I am nearly there in purchasing. As far as the painting is concerned plenty has been going on behind the scenes and this will form part of my next posting.
Gaming has been a little light on the ground as well so before the winter nights creep in and the shed becomes out of bounds we are going to have to redress that. More soon.
As a final little bonus 12 months ago I was invited to take part in the Chase (a early evening TV game show) - a couple of weeks ago the programme was broadcast and if you want to see me make a fool of myself (complete with hideous shirt) you can catch up on my final round here
https://www.youtube.com/watch?v=PWkO3q3Lut8
And now onto the pictures from Colours
Think I have seen embankments like this before....
http://shedwars.blogspot.com/2014/03/rail-embankments-trains-for-wargames.html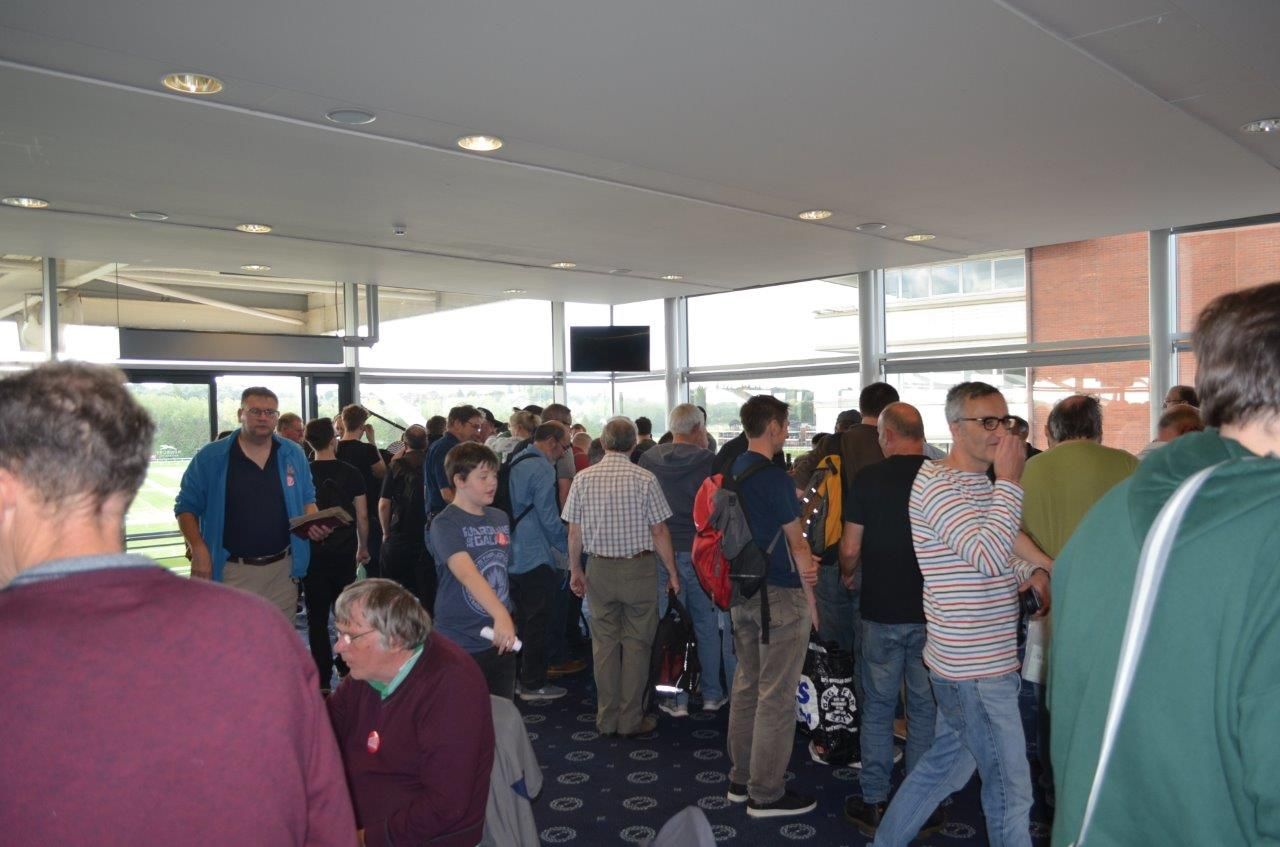 The usual scrum at the Bring & Buy
Come back soon....