A few weeks ago I bought the latest ECW rules to come out onto the market called For King and Parliament. These have been produced by a fellow blogger called Big Red Bat. I understand that these rules are a follow up on the successful To the Strongest Ruleset.
Indeed if you were at Salute this year you may well have seen a beautiful ECW game being run by the Big Red Bat himself.
The Rules come in a rather smart book and at first glance looked extremely professional and comprehensive. Subsequent read throughs suggest that this has been playtested significantly and certainly give a very good feel for the period.
As you would expect they contain all the stuff you need for the period - unit descriptions, movement, combat, constructing armies etc.
As of today I have been fortunate to play two games- both at Mark's place - a local gamer who recently put on the first games of 'What a tanker'. We have played the Battle of Montgomery (the battle listed in the book - My Parliamentarian Victory) and more recently the first battle of Newbury (Marks & Stuarts Royalist Victory) - Mark has kindly put up the order of battle for this on Big Red Bats forum.
Link here
https://www.tapatalk.com/groups/tothestrongest/first-newbury-sort-of-scenario-t980.html
The pictures interspersed in this report come from the second of these engagements using Mark's beautifully painted ECW collection. Its fair to say that his painting puts mine to shame.
Newbury Battlefield - if you look carefully Mark has gridded the table using static grass tufts
Until now the Shed has very much focussed its ECW battles on the Warlord Games Pike & Shotte ruleset. These I believe do deliver a good game and benefit from the familiarity that many gamers have earned over the years with Black Powder.
However For King and Parliament do deliver a game in an evening and that works for me.
The rules call for a game to be played on a grid (much in the same way a chessboard is laid out) with each unit moving and shooting across the grids. This removes all need for measuring devices and negates the need for specific basing, frontages etc that plague so many other rulesets.
Parliamentarian Horse
Royalist Horse commanded by Prince Rupert
Infantry can move one square, cavalry two and ranges for small arms are generally restricted to one or two boxes. Artillery can obviously fire much further.
Aside from the grid configuration it is the activation sequence that makes these rules different but if you are familiar with Black Powder and its predecessor Warmaster you can see its origins.
To begin with each player needs two decks of playing cards. All the picture cards are removed leaving him with a deck of 80 numbered cards.
Once players have determined who is going first the leading player nominates one brigade to activate. This can either be the whole brigade or a specific unit. He then draws a card. Typically anything but an ace will allow that unit to activate. This requirement is modified by the calibre of troops, the terrain and or whether it is a difficult manouever. If he activates the unit performs the action required.
Two regiments of Royalist Infantry advance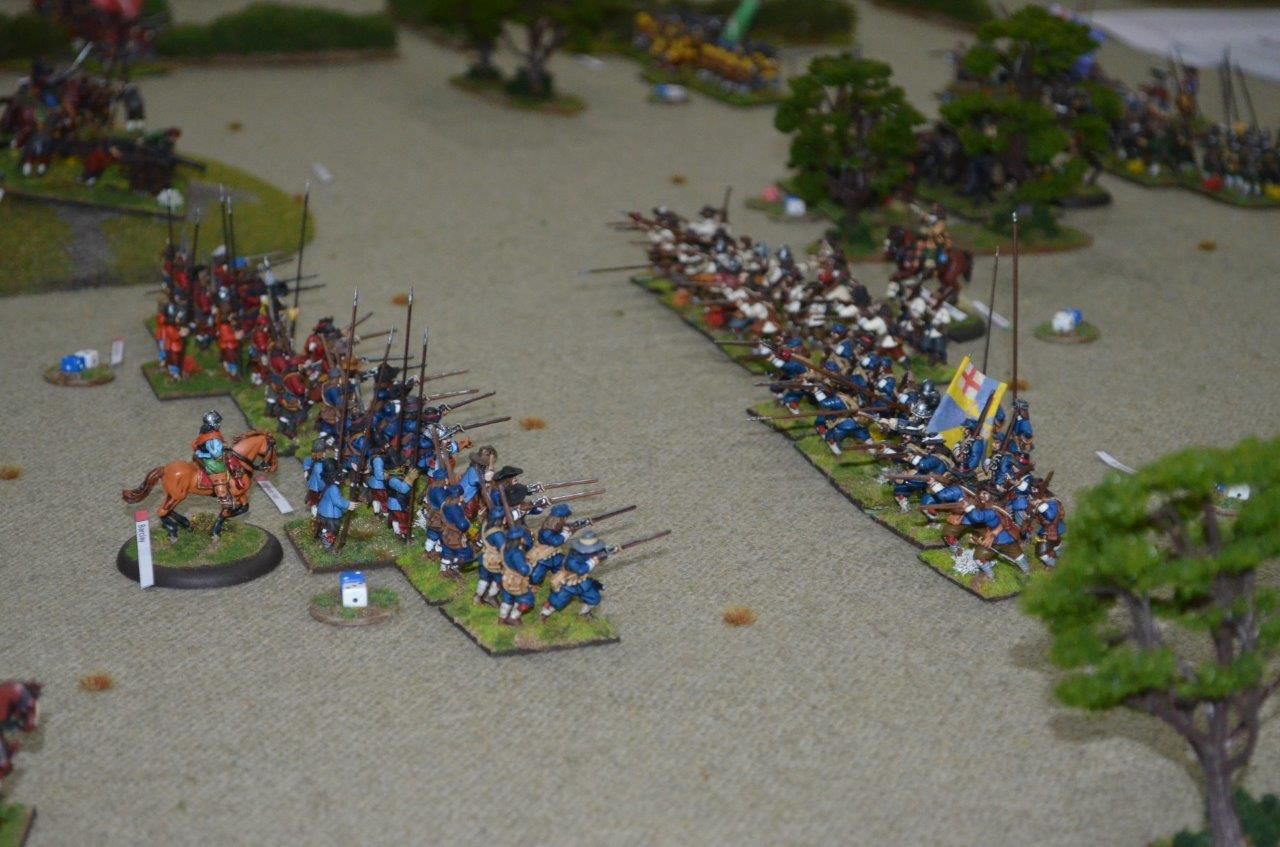 Engage !!
This action could be a move, a turn facing, shoot or even something else. Once the first card is played (lets assume its a five) he can either activate the same unit again or move to another unit in the brigade. Secondary actions require the number on the next card drawn to be greater than the first (Think of Bruce Forsyths Play your Cards right). You can switch between brigade units throughout the turn until you either draw an ace (automatic fail) or the card drawn is lower than the first. At which time the brigade ceases its actions and you move onto the next. Once all brigades are activated play passes to the next player.
One of the great things about these rules is the use of commanders - were a commander attached to a unit then this allows the unit to redraw a card if the activation fails (or indeed if a high card was drawn first time round - as it is always preferable to draw low to high). The placement and attachment of commanders is crucial.
Royalists advance in the hedgerows supported by a light field piece
The Royalists push forward against a numerically stronger Rebel force
Assuming units are in range for charges/shooting combat is very simples. A unit that is not disordered typically requires 8+ to hit (each unit gets a number of attacks and can spend extra ammo counters or dash chits to get extra attacks). Each hit forces the defender to save (dependent upon cover, calibre and other factors) - standard saves tend to be 7+. Fails disorder the unit and remove hit points. A typical unit has three lives.
When a unit is shot at/charged the defender can automatically react (without playing an activation card) so following offensive actions the defender can retaliate assuming he is still present and has not been routed.
As you would expect there are rules for rallying weakened units, the impact of routs on friendly troops and breakthrough charges.
Furious cavalry fight on Rebel right wing - the Cavaliers break through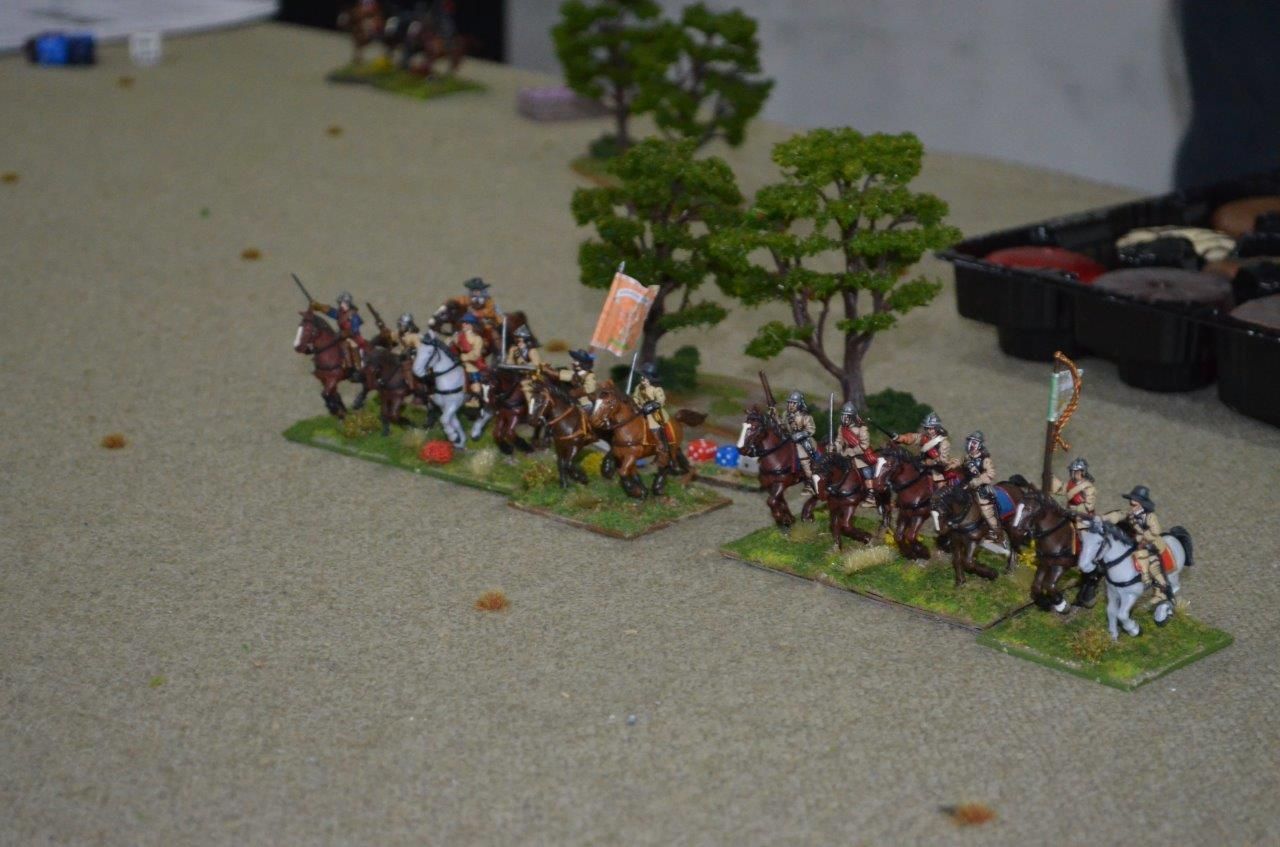 More Royalist Cavalry
Cards or dice (d10) can be used to drive combat - we elected to use dice as this is both quicker and more appealing.
When units ether have more disorders than hits, or all hits are removed the unit routs off the table. If the winning unit were a cavalry unit they tend to then pursue the defeated enemy off the table (all very Cavalier)
These mechanics lead to a very tactical and rewarding experience with my only criticism being that the results can be quite swingy, with a 30% chance to hit and 40% chance to save extremes do happen quite frequently which is inevitable when you use a d10 mechanic. We had the same issue with Frostgrave !
Fierce action in the hedgelines
Victory in a game is achieved when the winning player amasses a certain number of points (with each defeated unit counting towards this total). This does force players to husband their resources and withdraw weakened units from the fray.
Its all over for the Earl of Essex
So a couple of thank you's
Firstly my thanks to Simon Miller (Big Red Bat) for the rules,
Secondly my thanks to Mark K for hosting these test games
More soon