Hi Folks
With the weather now warming up I can justify spending more time in the shed and so over the last couple of weeks I have been both building some new terrain and refurbishing some old.
Hope the following is of interest
Up first are some simple fields. Whilst clearing the shed back in the summer I found a small bag of plastic aquarium plants. These are no more than a cm in height and have a small plastic stem. These look like great cultivated plants for 28mm (don't ask what type of plants thought !).
It was a simple job to cut out some hardboard sheets – mark out and drill the peg holes and glue the plants in place. Once dry the field was given a basing of sand and ballast. This was painted up using chocolate brown emulsion. A quick drybrush and some grassy patches helped bring this to life.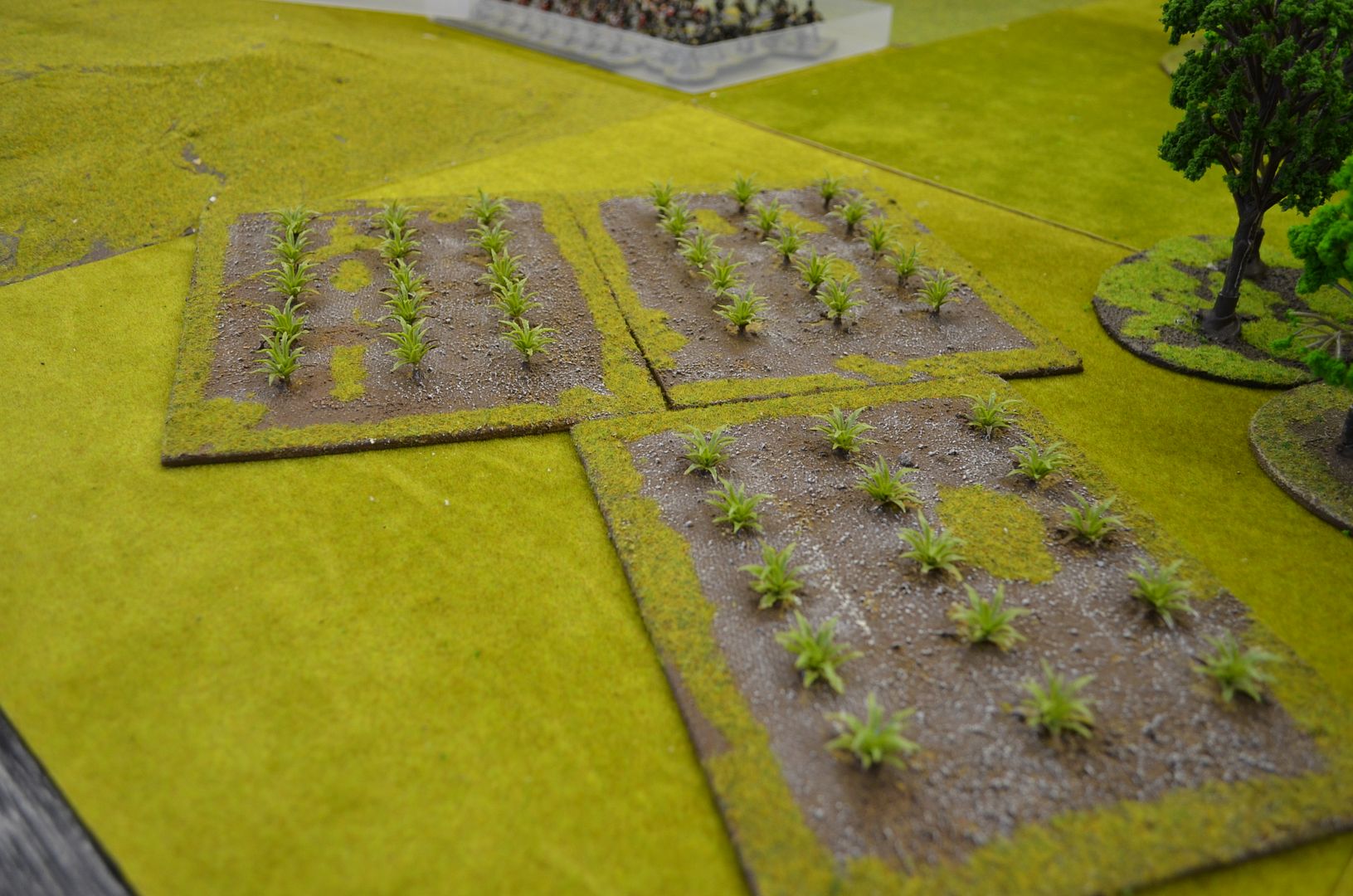 Three fields which cost next to nothing
Add Walls for effect
Pretty good...will they work for arid climates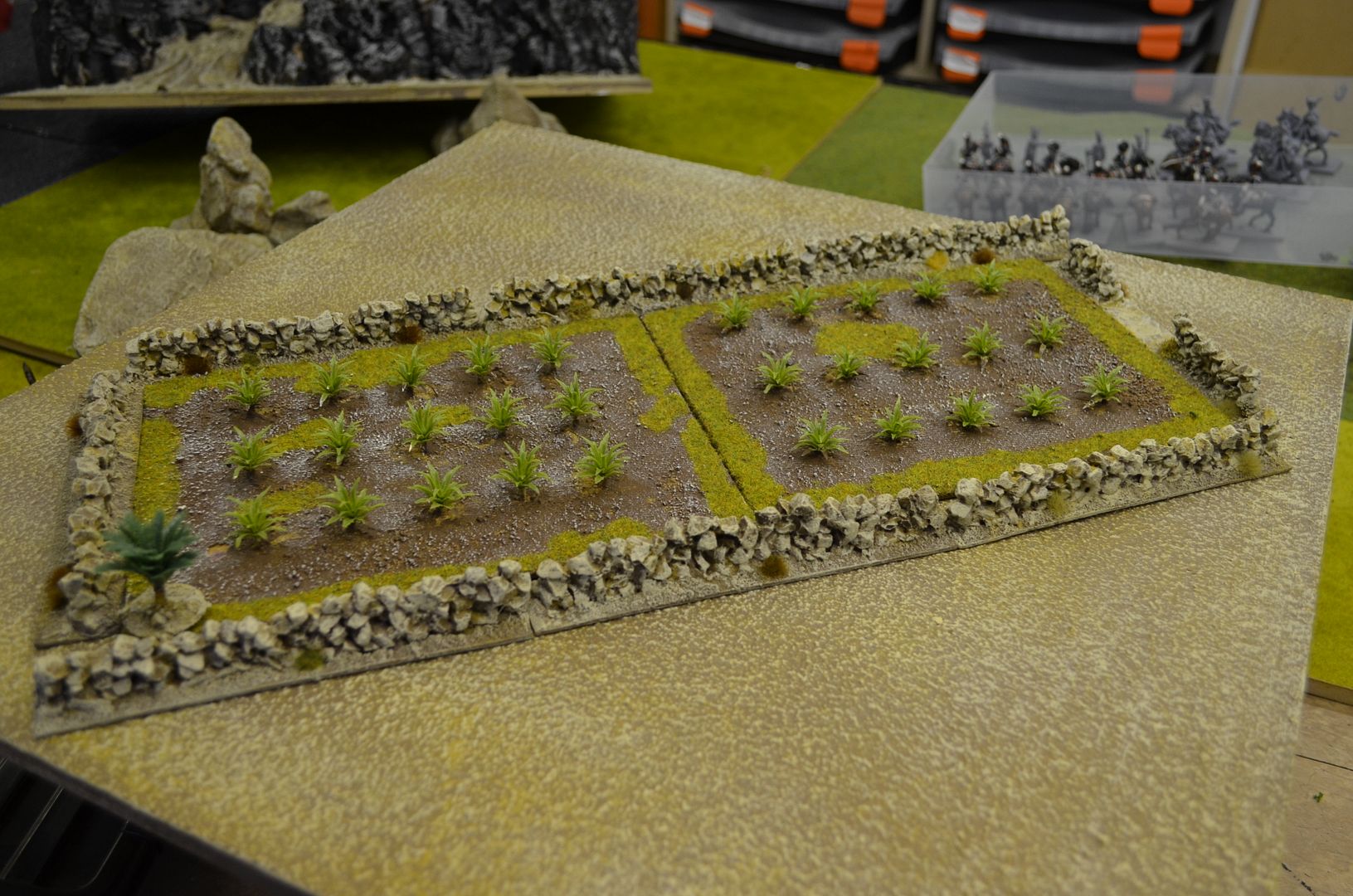 Yup....and yes I have two different coloured wall sets
Up second are my vineyards - now when I decided that the peninsular was going to be deserving of my interest I quickly realised that I was going to need some custom terrain. Chiefly vineyards and olive trees. An internet search revealed that Noch produce both of these. An order was made.

What a brilliant idea !!
Again I cut out some board for the fields (four in total) and then measured out the posts for each end of the vine run. The posts were bamboo skewers cut to length and fixed in drilled holes with pva. Between these posts were drilled several holes for the armatures. These were then cut to the right height with clippers.
Once the tree armatures were in place I treated the base with the same material used for the above crop fields. Before the base was painted brown I sprayed the tree bits dark brown. Added clump foliage with a hot glue gun and hey presto
Now whilst on the subject of fields I had some coir door mat lying around - perfect for wheat fields. These I cut into an irregular shape stuck them down on hardboard and treated the base. Easy job and they look great. Indeed we have used them recently in our M&T game.
Add caption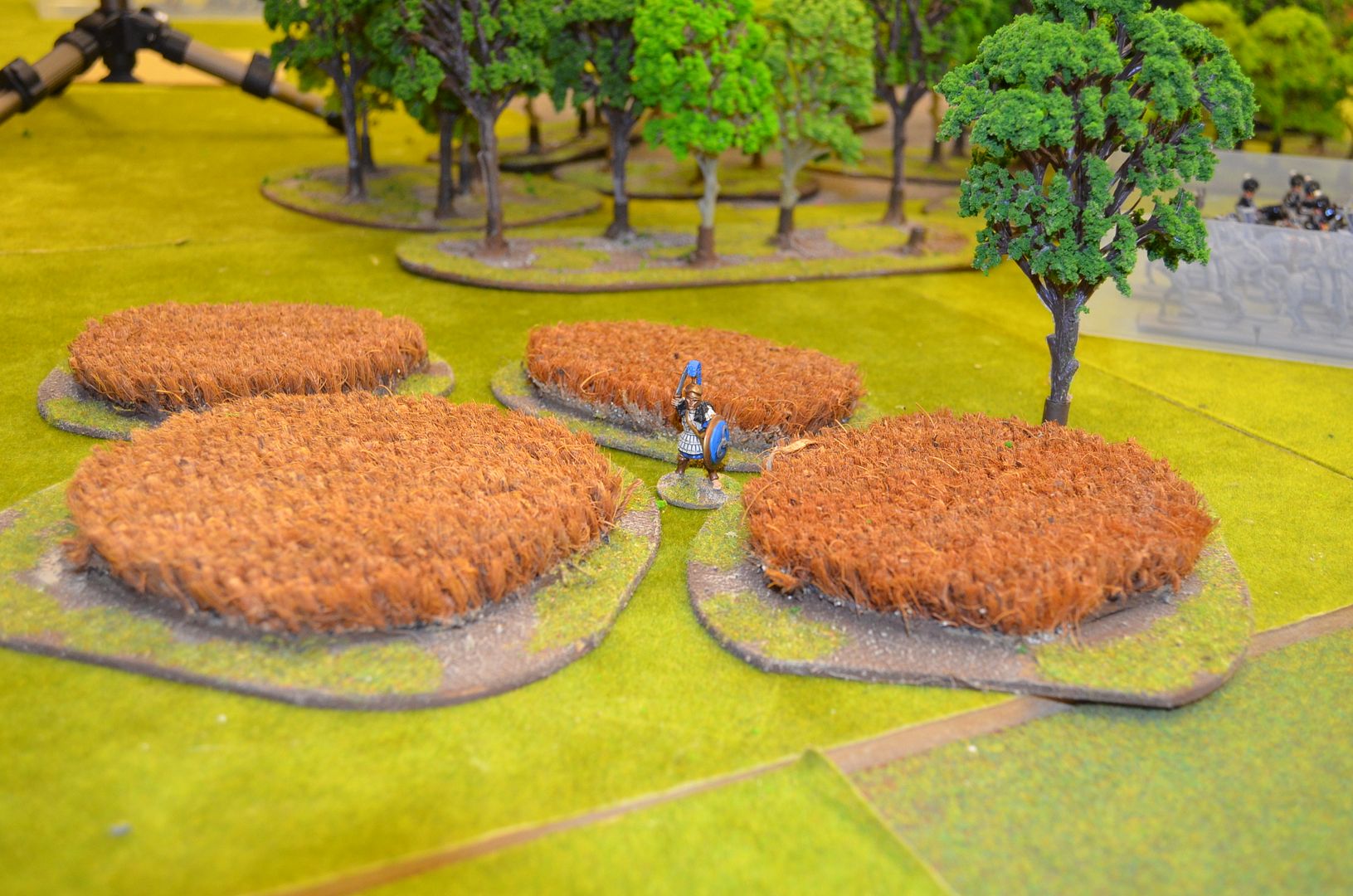 You might notice that one of the photos above has shows a tree in the field - lets turn the base around....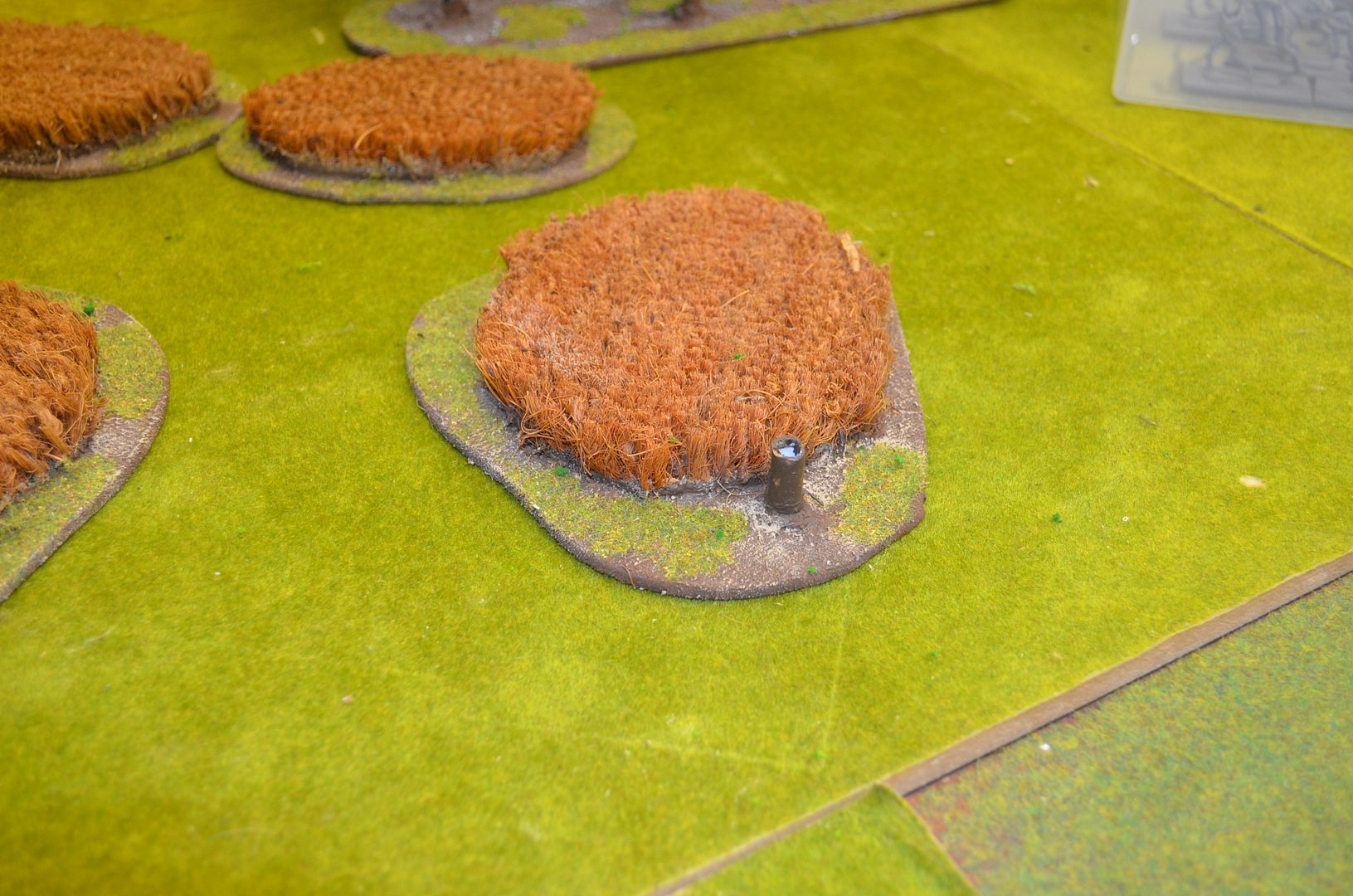 and you can see there is a peg for the tree to slot in - this helps enormously with storage and allows trees or NO trees on the terrain. The peg can always be covered up with a bit of lichen
So I decided to rebase all my deciduous trees - you know the cheap ones that come from China.
Up until now I had been basing these simply in hardboard bases. A drill was used to create a hole and then the truck pushed through and hot glued in place. The problem was that the storage for these was massive and they looked unsightly. A new option had to be found.
Again I stuck with the hardboard bases - all the old ones were re-purposed but this time I drilled out hole and then glued in a two cm high tube of styrene.
Prior to cutting the styrene tubes I sprayed them all brown on a piece of wood with bbq skewers to hold the tubes upright.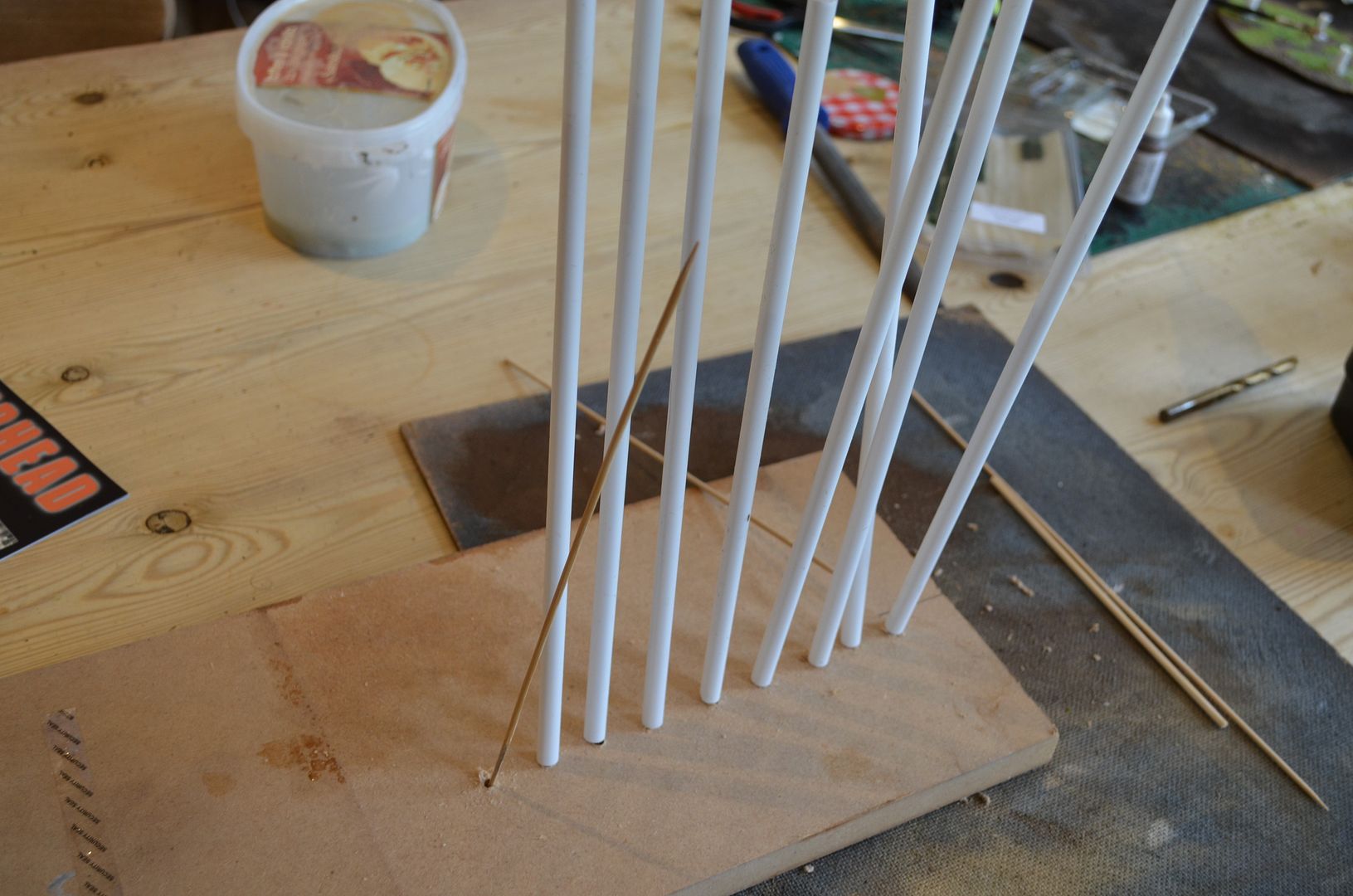 prior to the spray
These were planted dark brown to simulate the trucks. All I have to do now is pop the trunk into the tube and hey presto a tree is standing. Not only that they store so much better...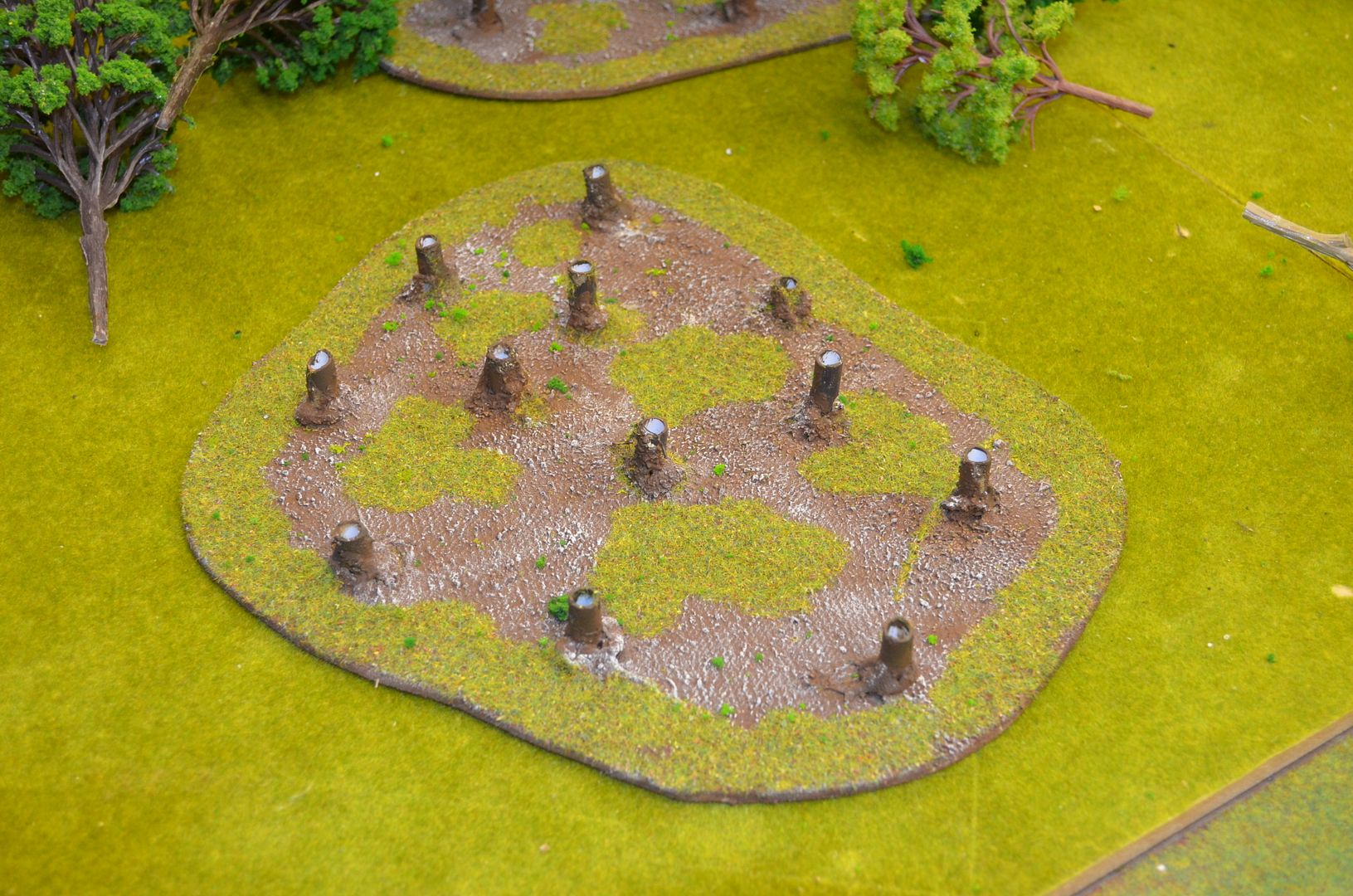 a woodland base with pegs....
The finished wood
Here you can see half of the trees based - could noit be bothered to set them all out for the shot but as my regular gamers can always testify - Eric the Shed loves his tree covered tables !


More very soon