A couple of weeks ago I hosted a rather large EC game based on the battle of Newbury and whilst closing up we were talking about what we might do next. Alastair suggested we should put together a project where each player could contribute to the 'big game'. It was also noted that there was an appetite to run a campaign of sorts and perhaps this might culminate in our 'big game in January next year.
Thinking caps were quickly donned and a suggestion was put forward for a War of the Roses campaign loosely based on the old Kingmaker Game.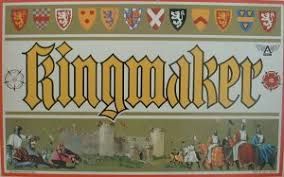 I am sure that this game needs to further introduction. How this campaign might work is yet to be determined but we did agree the following.
Each player would attempt to put together a retinue for this campaign using 28mm figures. At the moment we are not definite on the gaming rules but it is likely we will use either Lion Rampant, Hail Caesar or To the Strongest. It is possible we will use a combination of all three in our games.
Retinues will be based on the army lists from the old Medieval Warmaster rulebook.
These give the minimum and maximum number of units for a typical Yorkist and Lancastrian Army.
Each player will need to foield around 6-7 units of which a minimum will be 2 Longbow and 1 bill and one man at arms unit (this can be either mounted or dismounted). Additional units are of course welcome including Irish and Welsh foot, Burgundian mercenaries, handgunners, Artillery,Pikes etc.
It will be for each player to determine what they purchase and the retinue they will field. Of course they will need to decide on which Lord will be their champion. For my sins I shall put together the retinue of the Nevilles, the Earl of Warwick, aka the Kingmaker.
Of course this has got the enthusiasm going and a few parcels have turned up in the last few days
Apologies for quality of picture
So another project kicks off...