I think I failed to mention in my last post that I hadn't quite finished the Dark Ages project - having laid out all my troops which you can see
here
I realised very quickly that I was light on archers and unarmoured saxons.
A quick scan on ebay revealed some decent priced gripping boxes and in a few days 110 more troops awaited their call up papers to join the army - 30 more archers and 80 more spearmen. These have all been based 3 men to a 5cm square mdf base.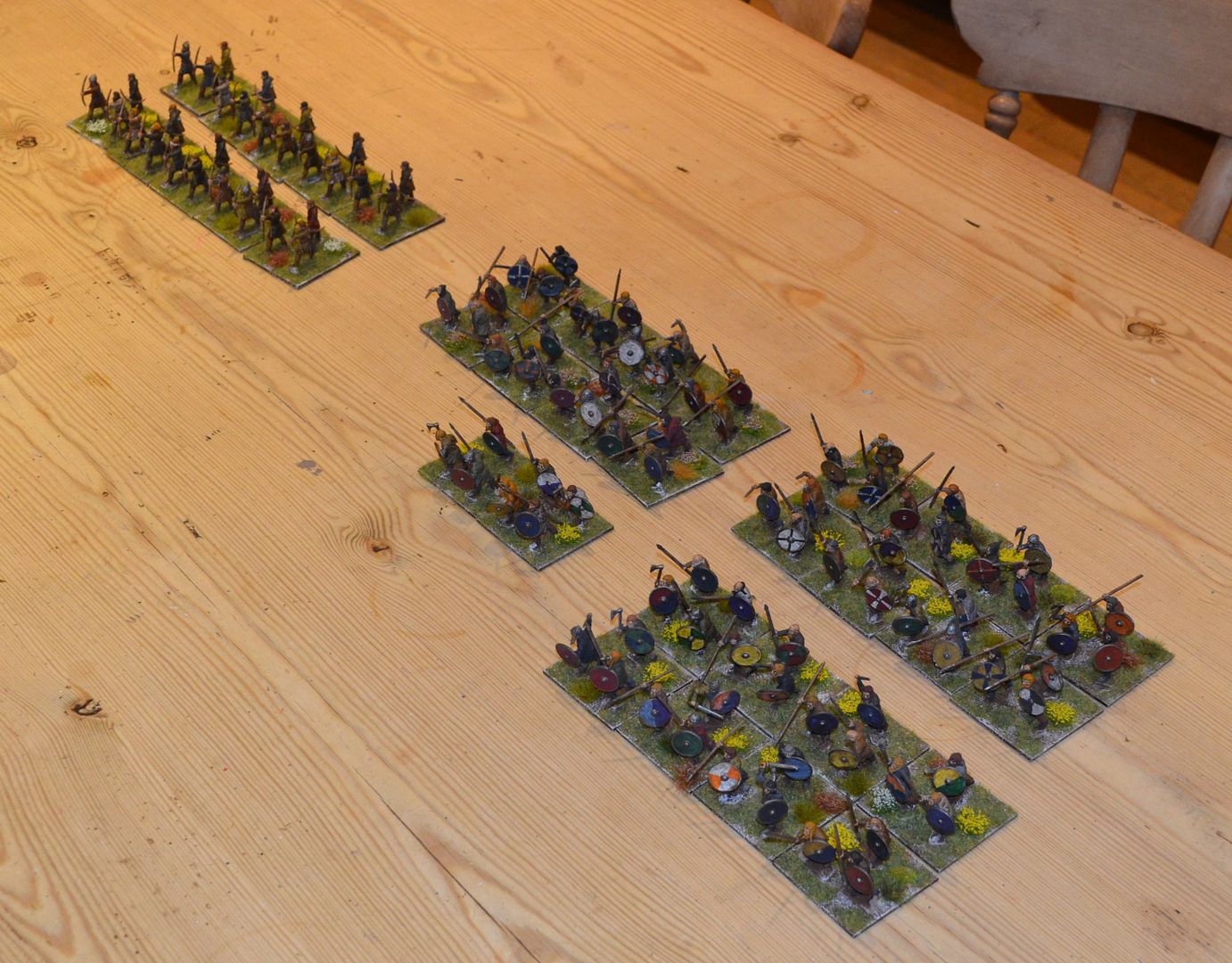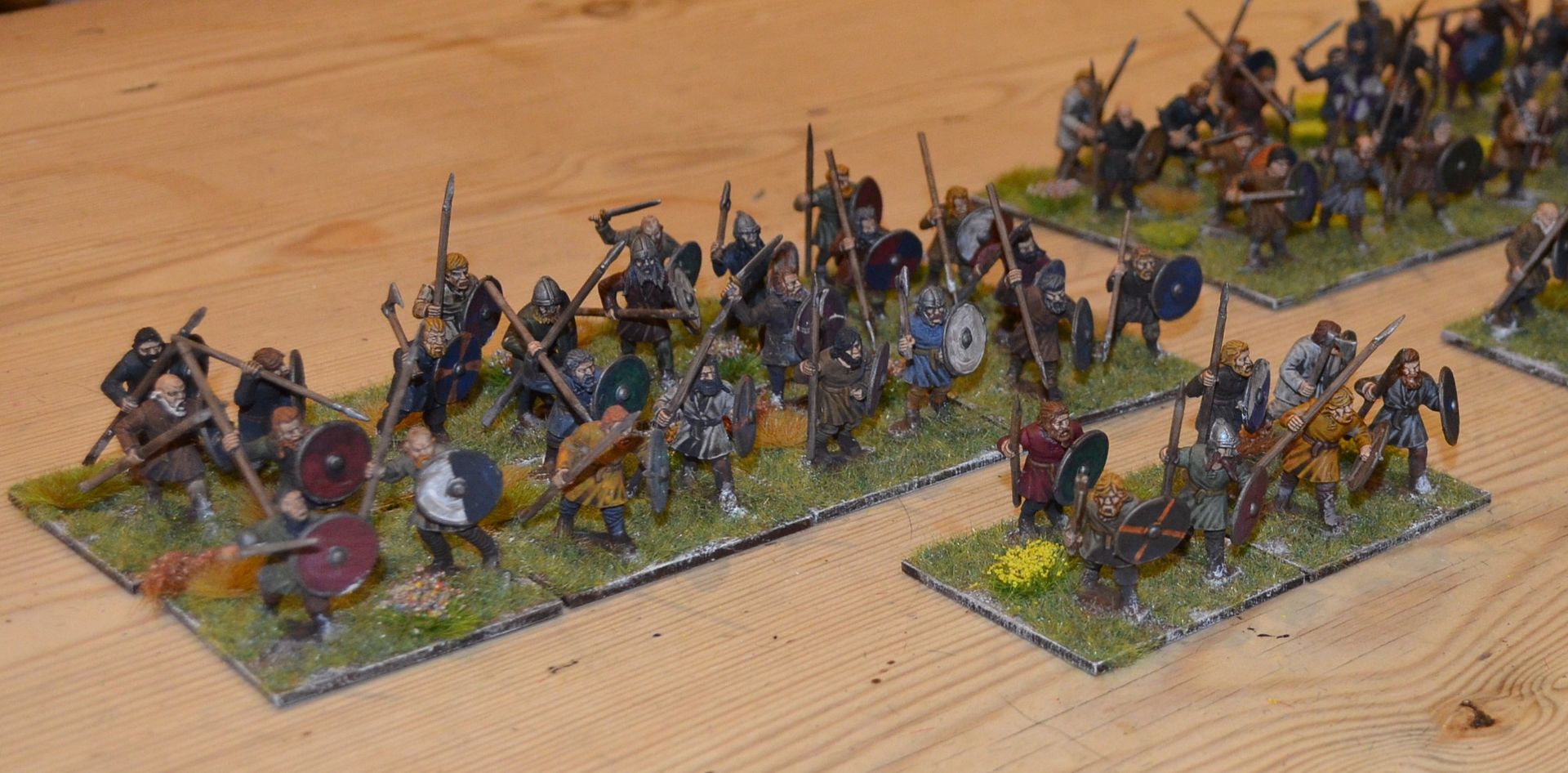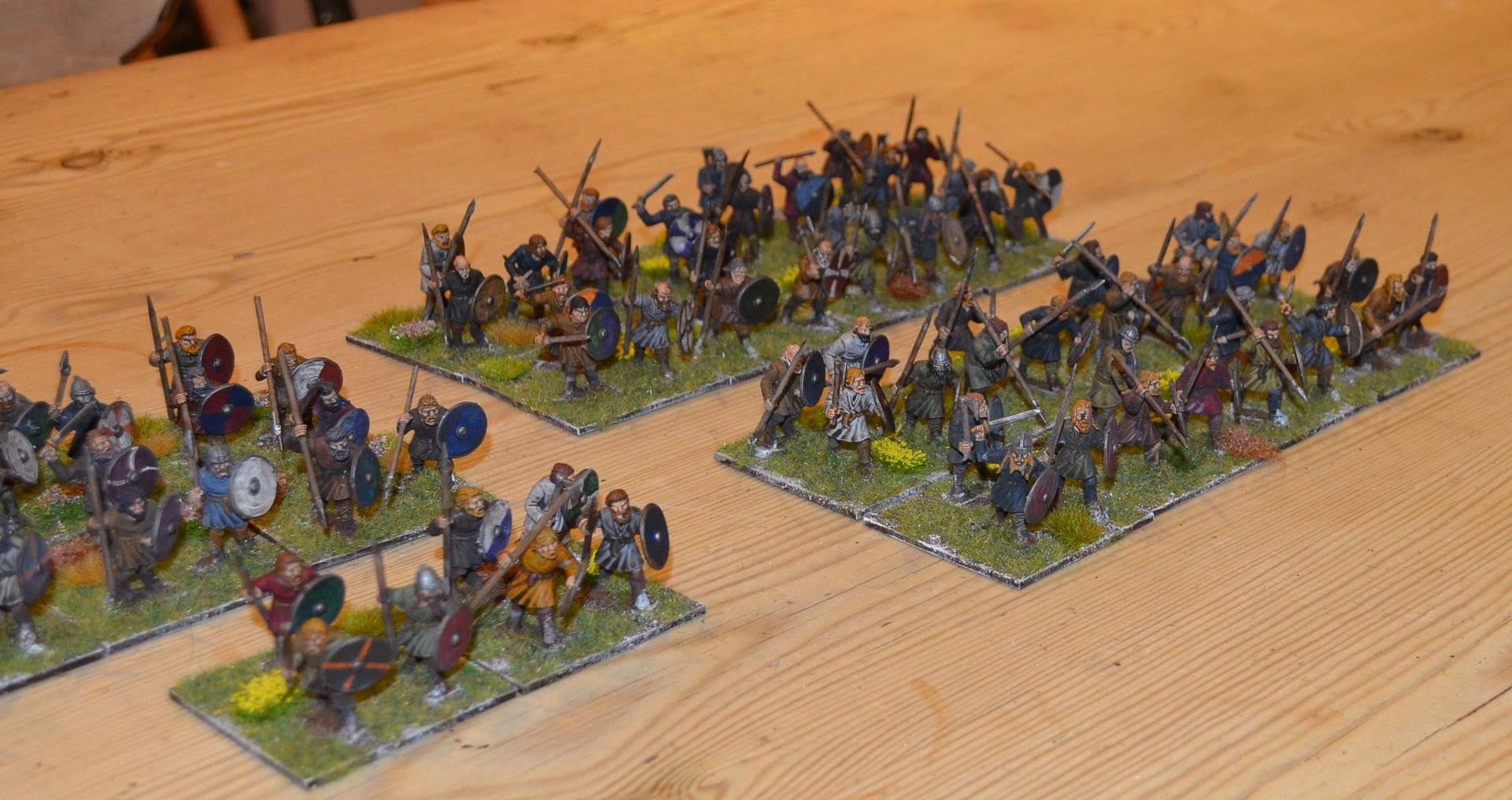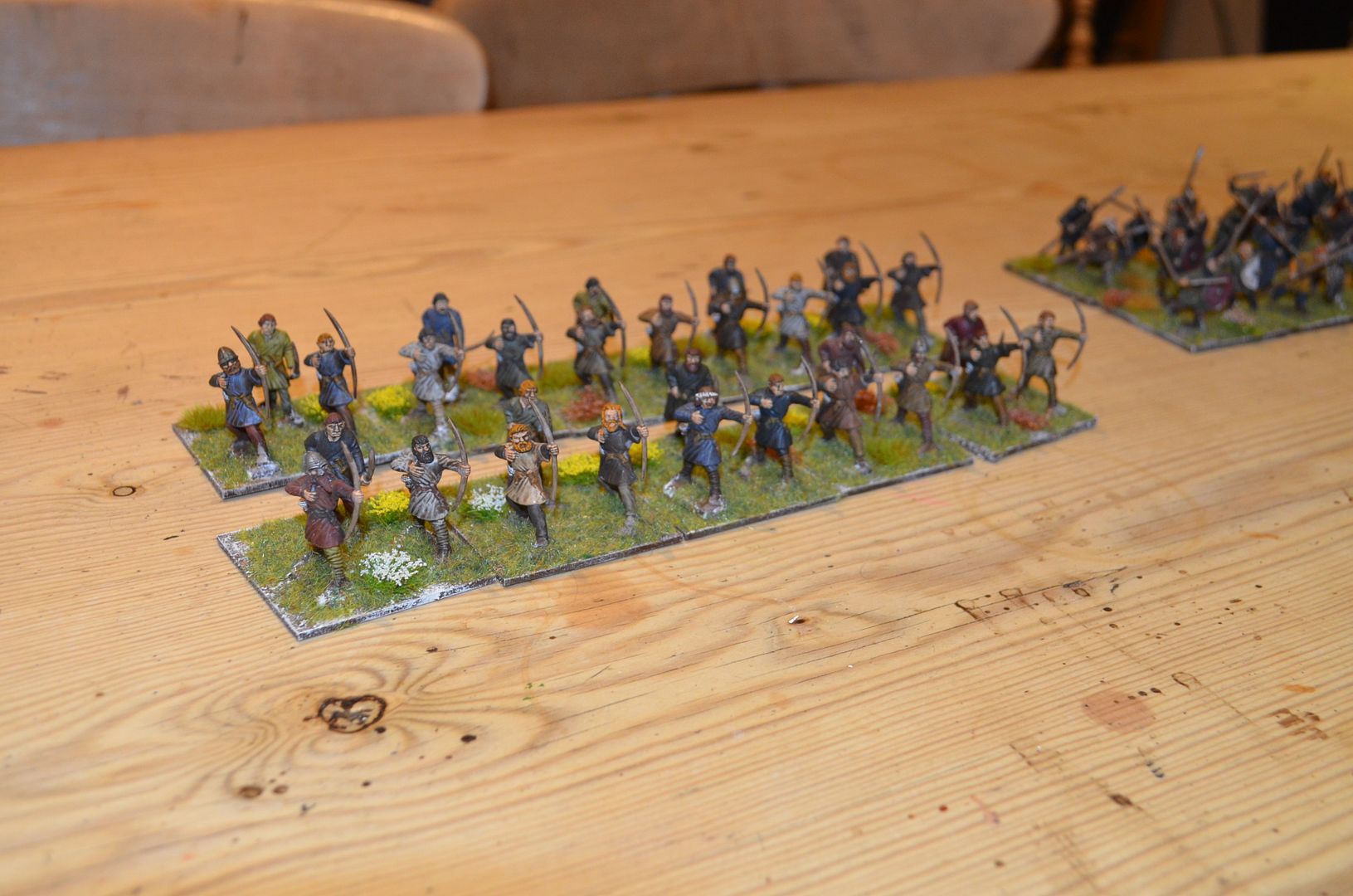 I can now safely say that I have finished painting dark ages for the moment - mind you the Victrix Vikings do look quite nice and if I can find some at Salute I might create a couple of Viking units.
Here are some of the final renders
So now it is all about preparing the games - the big one Hastings is planned on Sunday 10th March and I have been busy preparing the order of battle, players aids and background material over the past two months. In much the same way that I set up my Isandlwhana and Rorkes Drift games a couple of years back I'll publish all of this in the blog in the next few weeks.
I have now settled on using Hail Caesar for the big game - principally because it comes from a ruleset most of the players are familiar with and we do know that these rules lend themselves to some inhouse tweaks. More on this in the Hastings post.
So as I have said I have been busy reading up on Hastings and pouring over several books relating to the events of 1066. I have discovered a couple of excellent reads if you are interested in this period and would highly recommend them.
First up is a paperback I found in Waterstones called Harold, the King who fell at Hastings by Peter Rex - a great account of the man and the run up to his untimely death.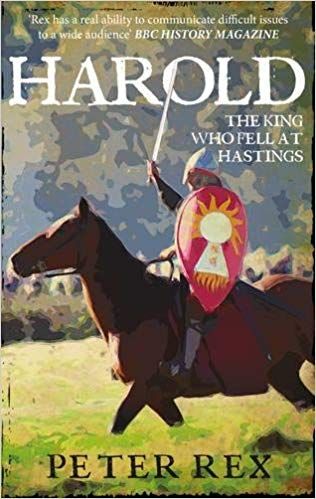 Next up is a great little book by Peter Marren on all three battles of 1066
Can't forget the Osprey book - plus it has a section on wargaming Hastings although this does seem to be a bit dated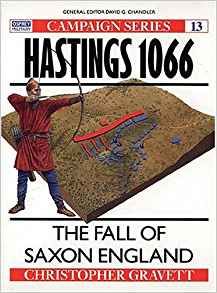 Perhaps the definitive history by MK Lawson - it is also a good read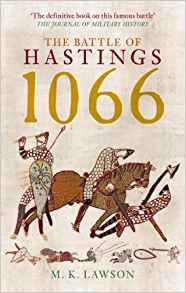 Now whilst I was doing all this research I discovered that WH Smiths were selling a magazine style book called not surprisingly 1066 Battle of Hastings - it wasn't cheap at #9.99 but it had lots of pretty pictures and in a moment of madness I bought a copy.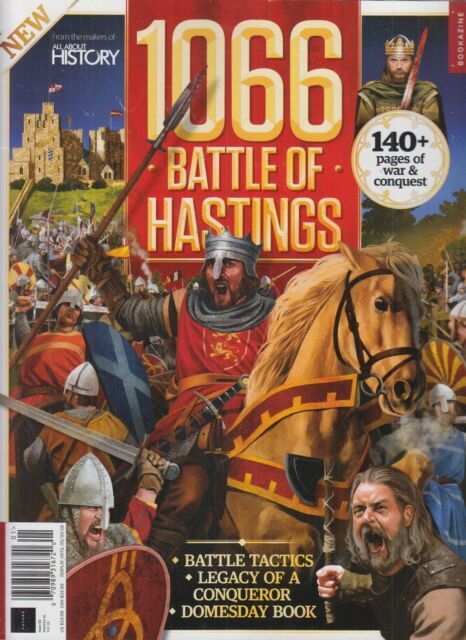 That night I settled down with a cup of cocoa for a good read (actually a glass of red but don't tell Mrs Shed). I got the distinct impression that this was aimed at a younger audience - perhaps 16 year olds studying history. It was reasonably well written and looks great BUT...a massive BUT coming up. The first pages I turned to was the battle of Hastings and imagine to my surprise the authors of this history have suggested that the English Bowmen in the Saxon Army were his elite troops...and the longbow his key weapon. Oh my god I despair these poor kids...it then dawned on my that the editors of this rubbish must have got the battle mixed up with Agincourt.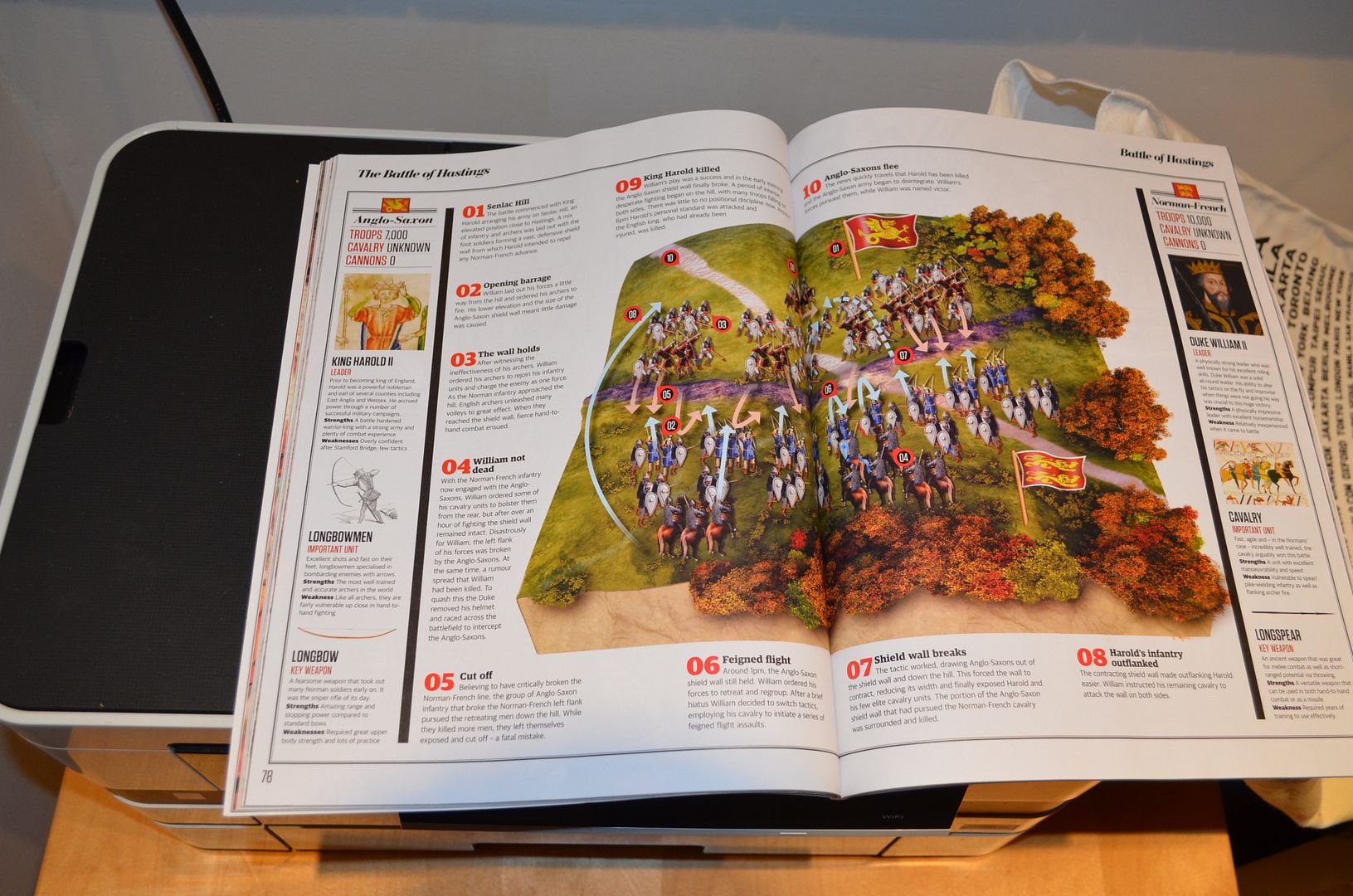 Nice picture - but whats that in the left lower corner
This just makes me angry !!
They talk about the Longbow as the sniper rifle of its day taking out Norman soldiers....Not good..very sad.
As a final foot note I found this website the other day - Battlefields of Britain. It was the first time I had come across this and it is full of useful information. In particular I like the objectives of each commander and the maps of each stage of the battle...
Highly recommended
http://www.battlefieldsofbritain.co.uk/
So now after all that reading I have to put together the first game of the year in the Shed...the Dark Age forces are going to get their first warm up in the Battle of Stamford Bridge.
The battle takes place next Monday night (25th Feb)
More soon plus the start of the next shed project ;-)