Over the last few months Shed Wars has seen a host of new terrain builds and several games. We have ranged from the Dark Ages to Sci Fi with a fairly major focus on the VBCW. In this post I am announcing the next major project of 2014, this doesn't mean to say that I won't be returning to the others its just that I get itchy feet and always want to start something new.
With a few weeks Gardening leave to look forward to I have pulled together all the bits and pieces accumulated for the Egyptian Adventures.
A few months back I was inspired by War in 15mm post on the Lead Adventure Forum and his build of an Egyptian temple complex. I wanted one of those and thought it would be a great backdrop for all manner of games ranging from Pulp & Horror through Ancients and into Science Fiction (think Stargate). The Dry desert would also represent one of those terrains that didn't currently exist in the shed so again this would all be new territory.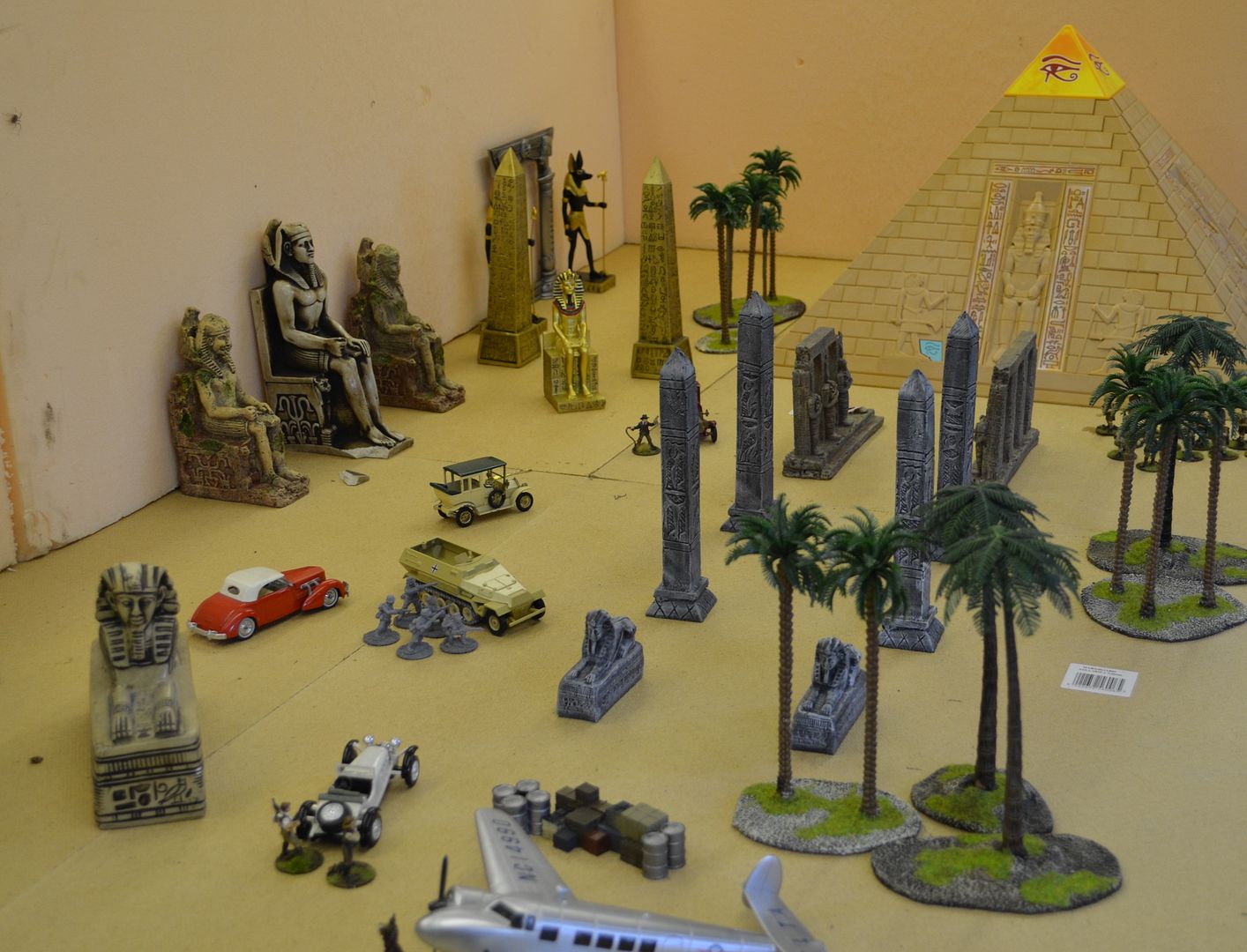 The assembled pieces so far...
A search of all forums for Egyptian terrain revealed a host of possibilities but of course the starting point was a pyramid.
This of course is going to be stripped down and repainted
Perhaps the best and cheapest option would be to build my own but in the end I managed to pick up a playmobil version on ebay for a £20 (including postage). For some strange reason they only come with three side panels. So I bought another !
If anybody wants a pyramid with two sides - make me an offer
Having travelled to Egypt a few times I was aware of the variety of tat that exists in the souvenir shops and I am delighted to report that many of these things can now be easily purchased on ebay.
The following pictures illustrate my growing hoard. Many of these will be repainted to a sandstone colour and represent the statues and ruins of my complex.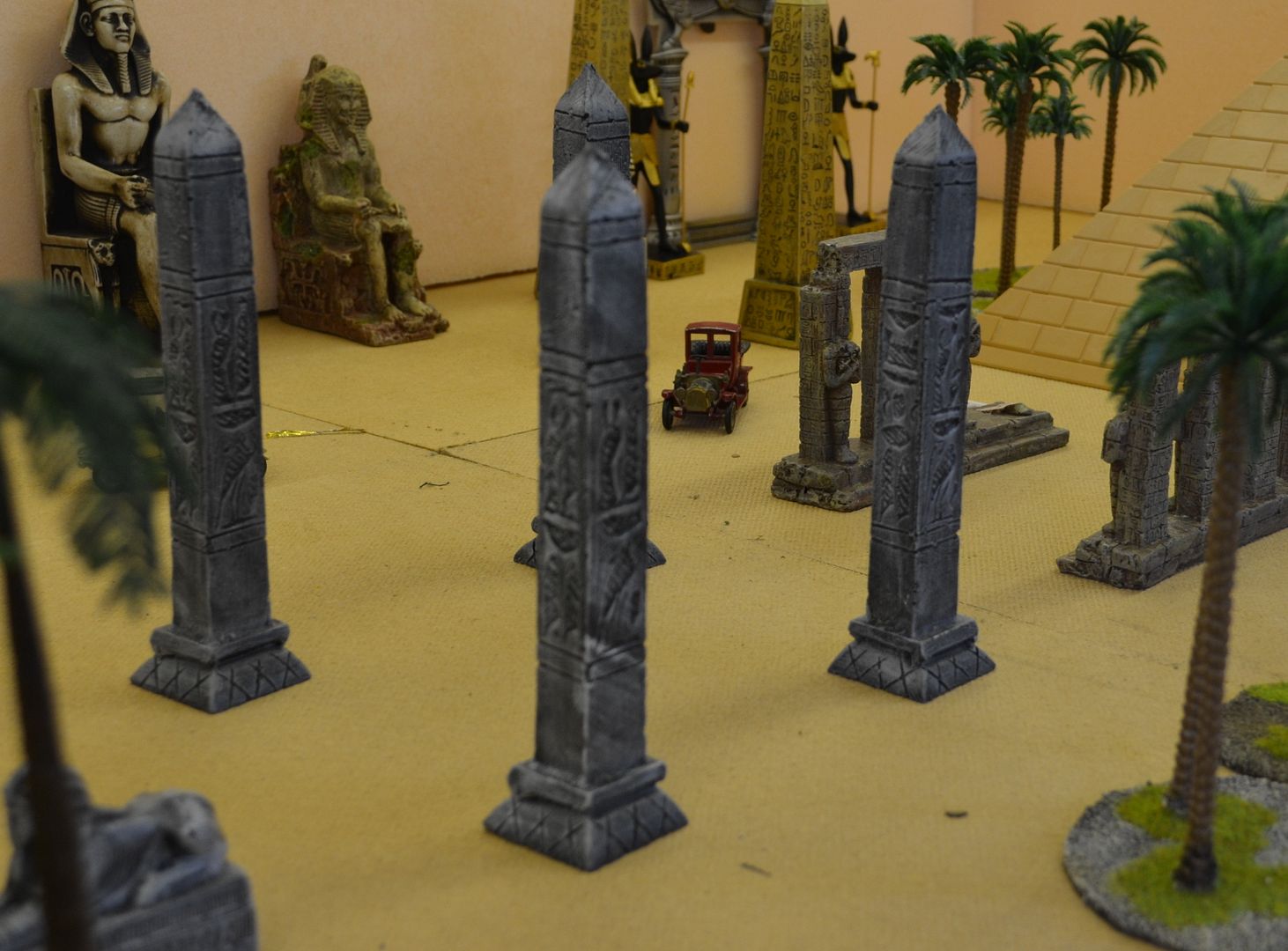 A trawl of aquarium ornaments revealed some nice pieces also picked up for good prices.
I'm going to scratch build a pylon tower and gate, as well as a rocky cliff face with a tomb complex in side. I managed to pick up twin Egyptian themed photo frames which will be perfect for entrances
One of two picture frames purchased for a £1
I also have the playmobil Sphinx but I am not sure iof this is going to work...we will see
From a figure perspective I have also been busy. An alert to a 50% off deal with Black Tree design saw the procurement of some Afrika Corps figures. Coupled with my Pulp figures already collected Il be able to kick off this period quite quickly. Of course my Afrika Corps need transport so this half track (solido) was bought on ebay for a fiver
Five of the 30 or so Africa Korps I purchased hiding behind their halftrack - these of course need painting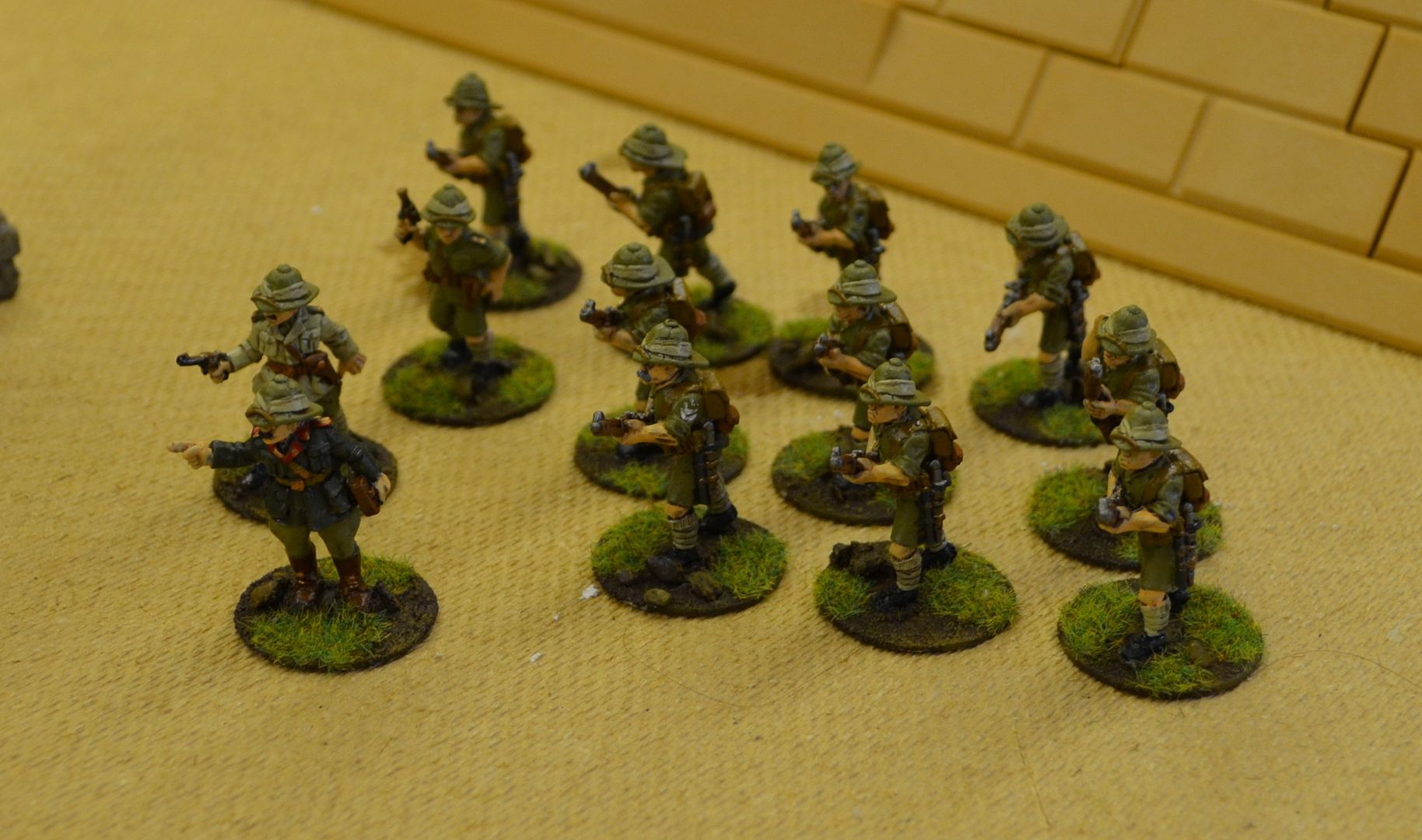 Bought these Brits in tropical dress years ago - might get to use them
Of course we need a plane and a landing site to whisk away those treasures...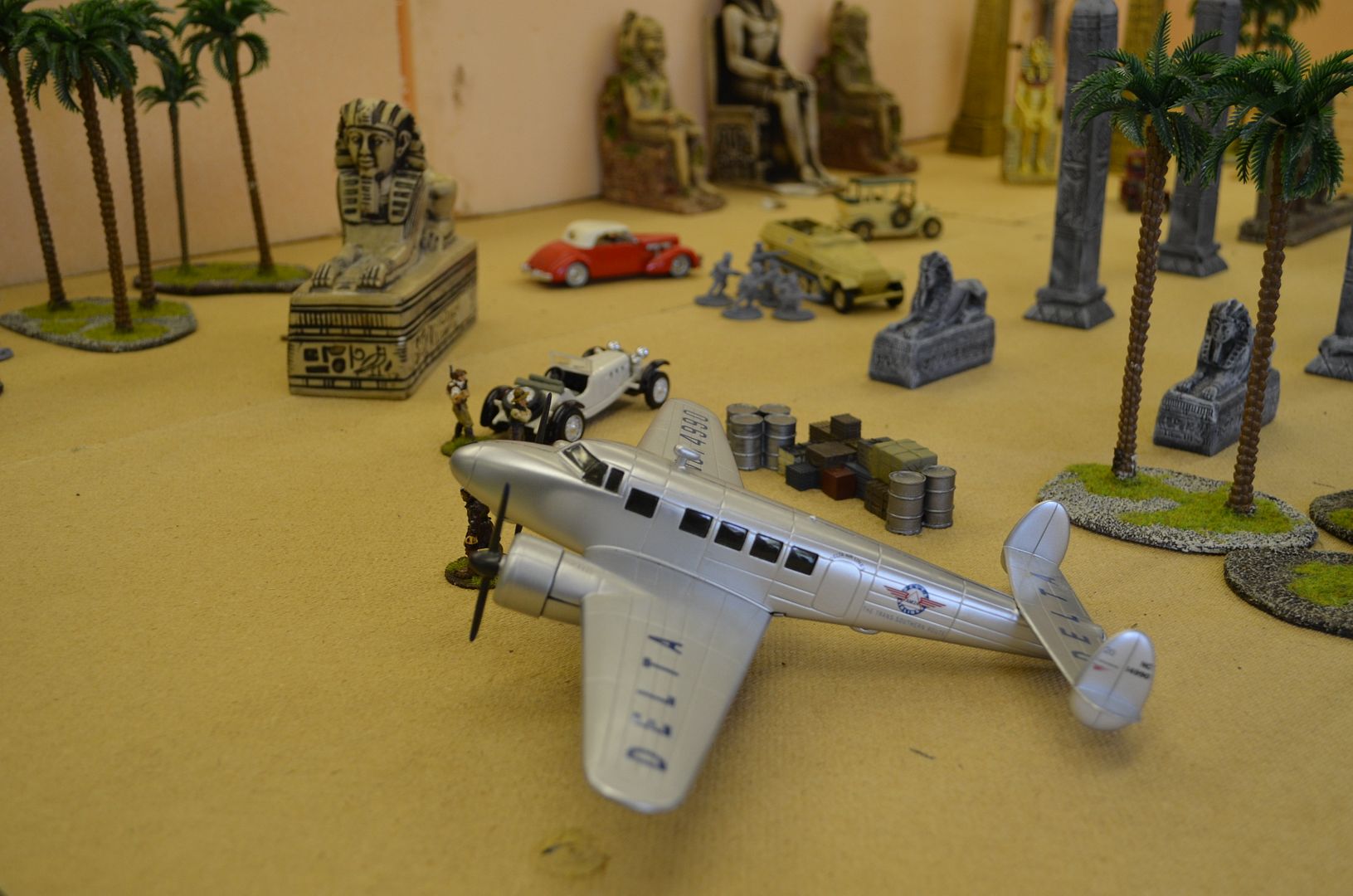 Of course we need Indiana as well
The palm trees all came from my Pirate games and of course I have this lot of adobe buildings for the nearby town...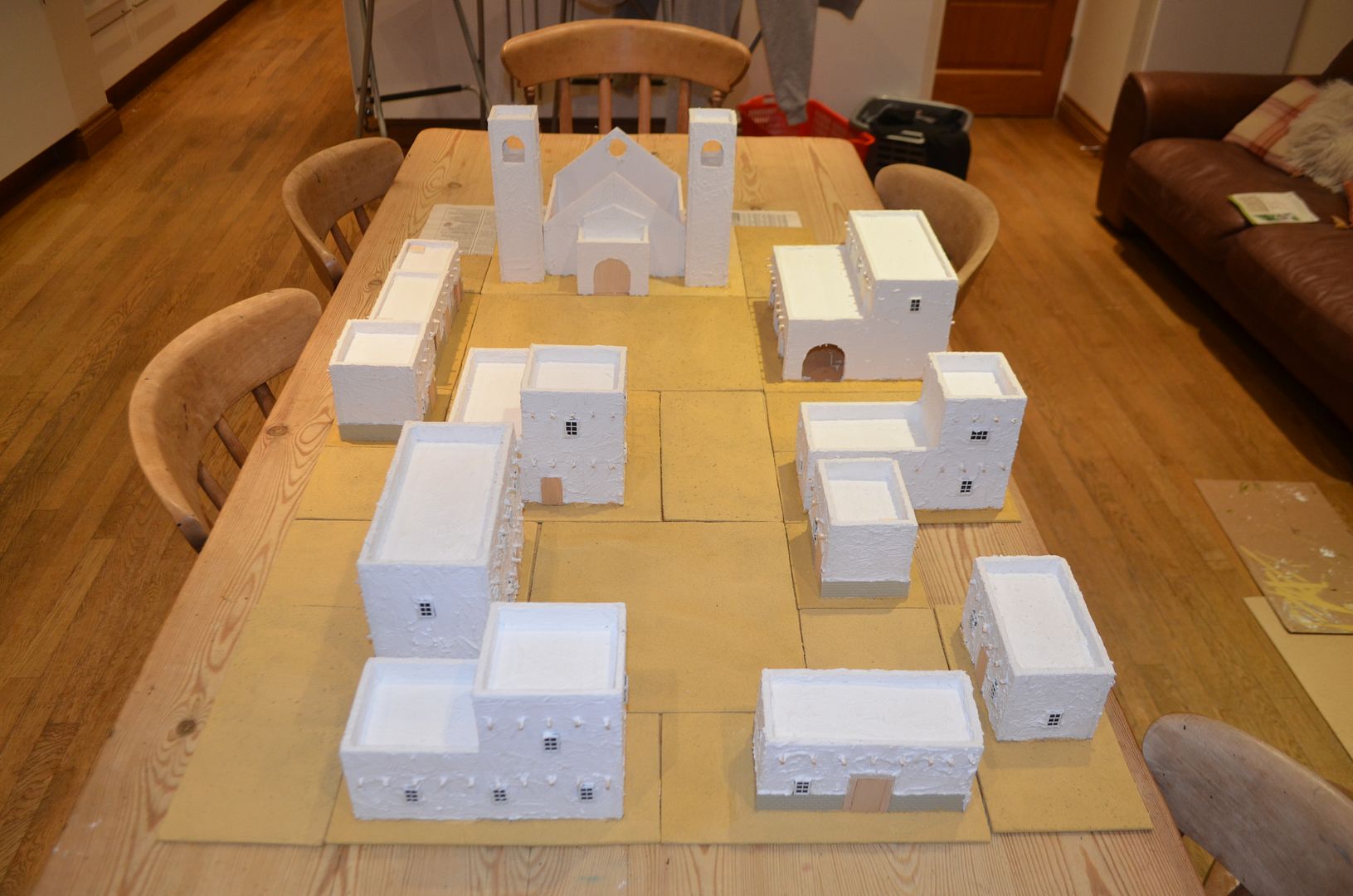 ignore the church !!
The base boards will need to be created, sandy of course. Ill need dunes and wadis, plus of course the tomb cliff face. Cork bark has been acquired for the project...
Where do I start...