If you are coming here fresh you might want to pick up the trail from part 1
When I left you last I had glued down the cut bark and had created the bulk of the infill using block polystyrene. The following step was all completely new. It could work or it would go horribly wrong...here goes.
The gap between the polystyrene block at cork bark cliff faces needed to be filled.
I could have packed this with smaller blocks of foam but it would have been longwinded and fiddly
I could have filled the gap direct with filler, expensive, messy, too long to dry and potentially made the units too heavy
Or I could use expandable foam.
I wasn't too sure how this would react to the polystyrene (would it melt?) so I tested a piece and after 20 minutes no adverse reaction could be seen.
So off I went merrily filling in the gaps. I hadn't however expected what happens next, although there is a clue in the name of the product...expandable. I happily filled the gaps and left the pieces to try when I returned an hour later the shock of seeing the foam setting in large blobs over the top of the cliffs was interesting. In deed some of the effects look like lava (bank that Idea for another project). The good news is that the foam has filled the gap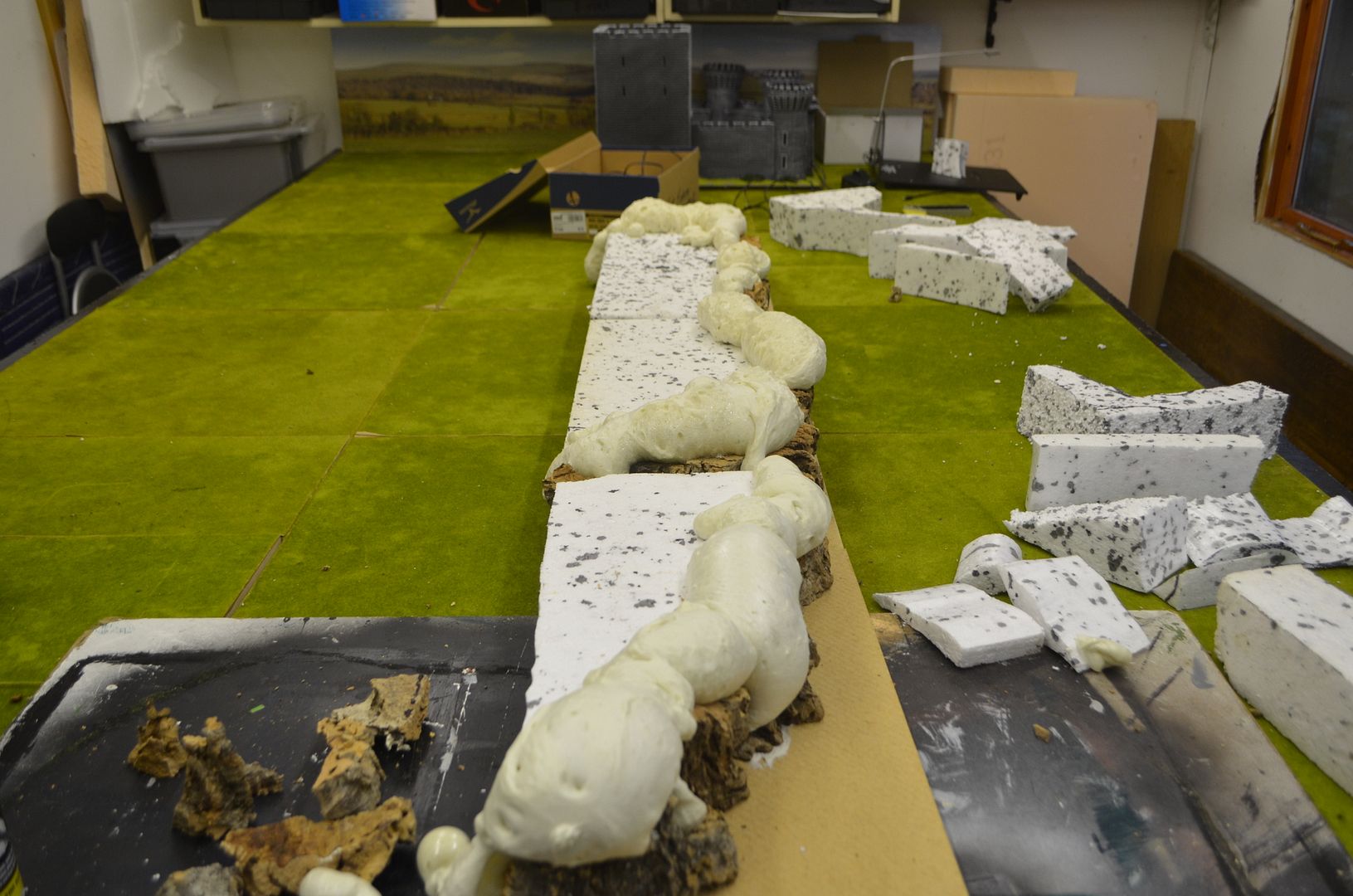 And perhaps more importantly taken on an adhesive quality helping to strengthen the bark to the base. The instructions on the can suggest that the foam needs 24 hours to set..
So I waiting patiently for 24 hours...
Tonight - get home from work and attack the cliffs with a carving knife
and....it cuts beautifully - the picture below shows the after cut...
and this was cut off..
Although light it is very strong...there must be a terrain subject here...I wonder if you can fill moulds with this stuff?
So the foam has worked so next up cover the top with filler and let dry...
Part 3 here: