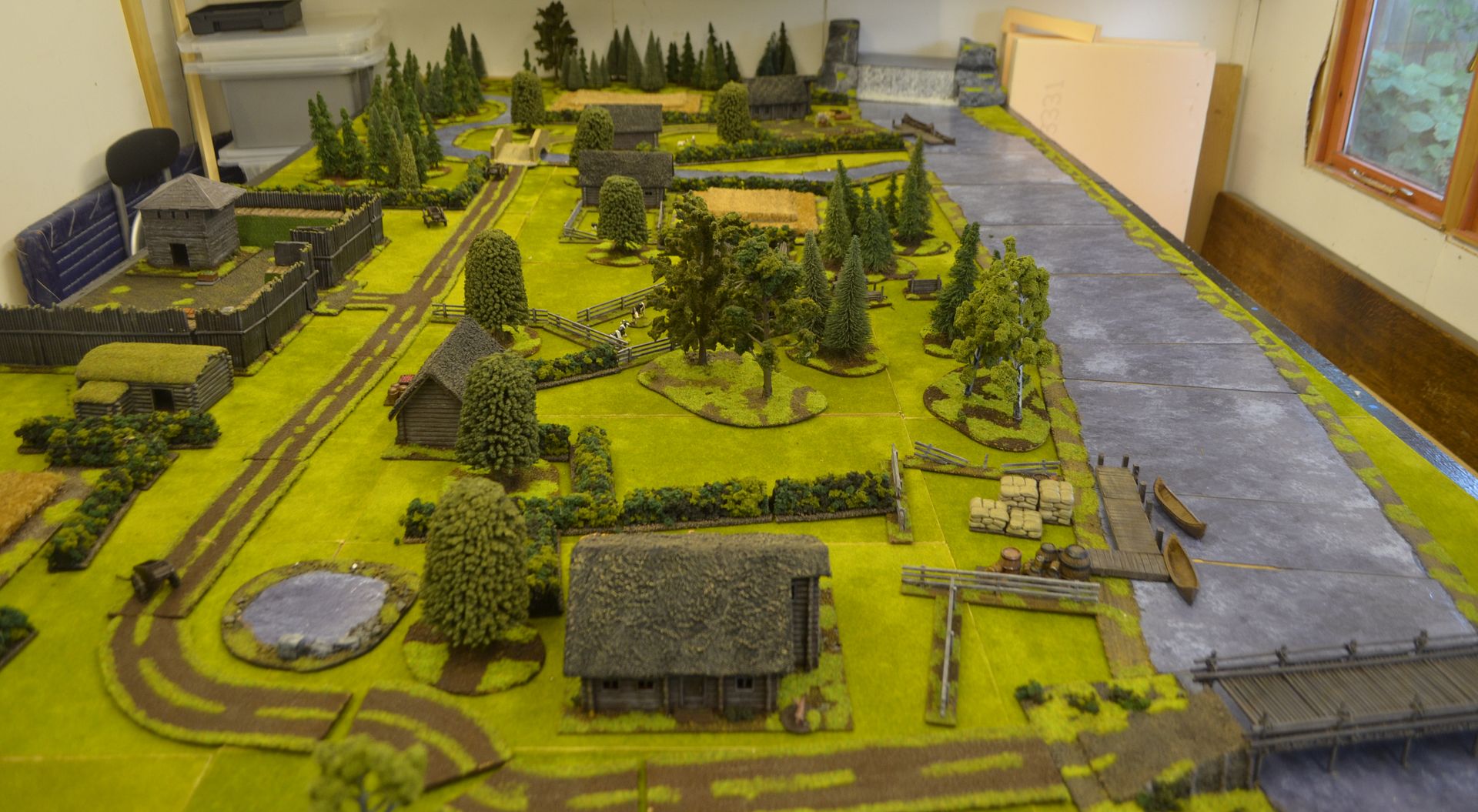 The Field of Battle
Looking towards the Blue River
The Settlement at the Falls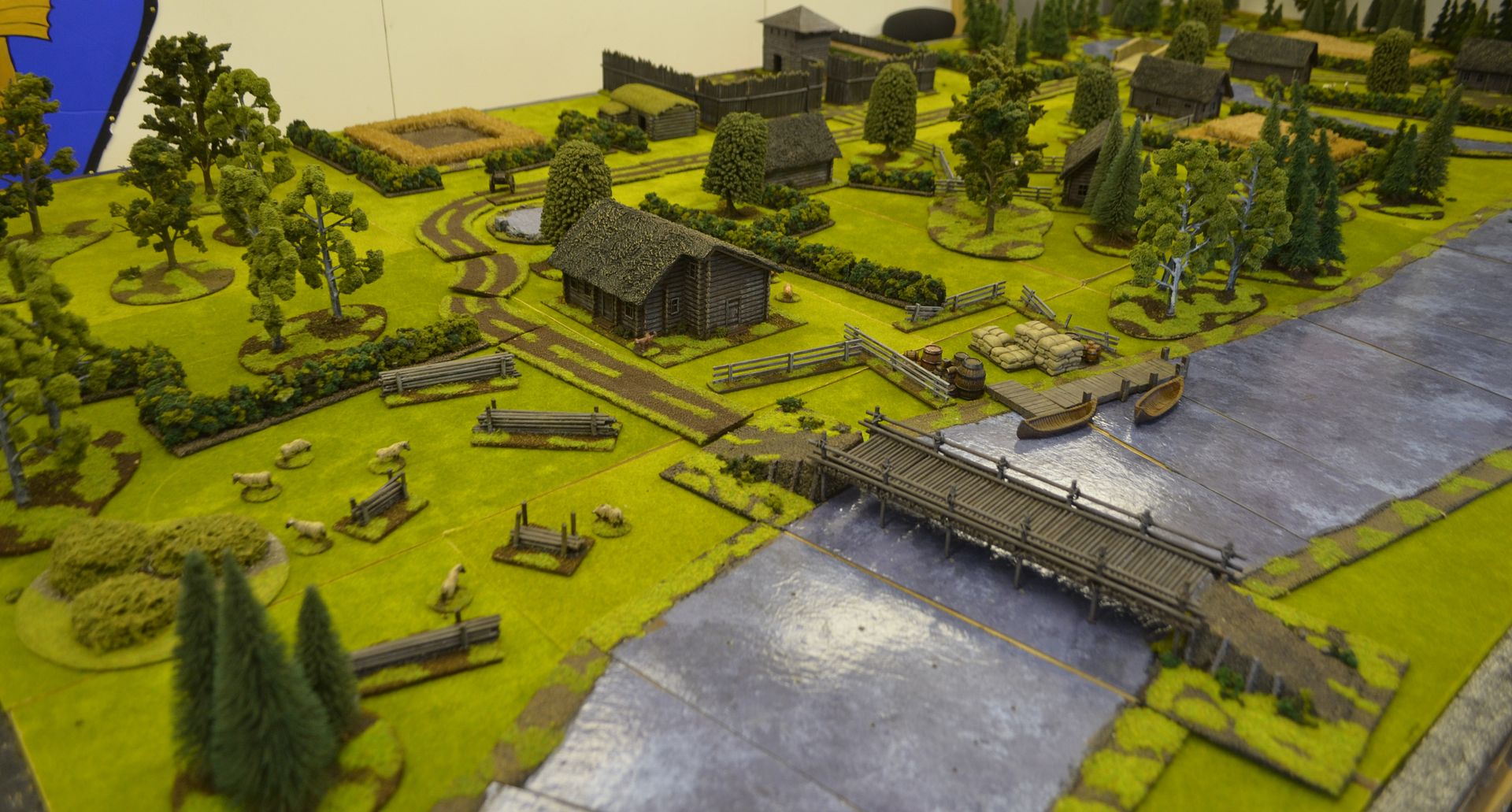 Parsons Crossing (my new bridge)
Across the blue River lies the settlement of Parsons Crossing. The settlement consists of several dwellings and farmsteads scattered along the river shore. To the South Lies Fort Edward, a place of safety and refuge.
Each dwelling has inside a card, these cards denote the inhabitants raging from old Ma Parker (an aged civilian) to a bunch of tough trappers (irregulars). In addition to the inhabitants there are two plunder cards – placed at random from the deck. Furthermore there are several other 'plunder zones' marked on the table – white counters. The plunder ranges from pelts to gold each worth a number of points (1-5). A single figure may carry one plunder card. As Indians die the player must decide if he has an excess of cards versus figures which cards are carried and which are disposed of (left behind for others to retrieve). Some of these cards carry no plunder but this is not revealed til the end. For every settler or soldier killed the Indians also collect Scalp cards. Each is worth one point in the grand tally.
The Settlers mission is to survive, they may try and run for the fort (but will always get caught) or can they hold out until the forts garrison arrives to save the day.
The Indians are striking at dawn – any shooting will alert inhabitants within 2ft of combat. If a building is attacked in silence the inhabitants will be on over watch on a roll of 5-6
Unknown to the Indian raiders is that a unit of British Infantry will arrive on the table in game turn 4
The game has a time limit – From each of the entry points to the fort where the greatest concentration of treasure lies is 5ft. As an Indian can move 6inches per phase (or 2ft per deck of cards(turn) the game limit was set at eight turns. At the end of the game any Indians that can be seen by British troops are assumed not to have escaped. So how did this all pan out....
The first band of Indians swarm ashore....
A second band encounter the local livestock...
A third band slip through the woods...
Defenders at the falls - soon taken down and scalped
Fleeing Civilians run down by the natives...
The Cabins set fire....
A defence by a few hardy woodsmen...
Fire...
Even the Local Parsons bible can't save him
Approaching the fort under cover
More civilians fleeing - the old lady never made it
To the rescue
Present arms...soon to be wiped out by hidden savages
The last valiant defenders
Looking for spoils...
I have been deliberately evasive in this write up as the scenario will be run during Matakashi's tea party next month so I don't want to give too many clues away...
The result two Indian bands tied on 28 points and one on 24 - a very close run thing...
Until next time...
Terrain Tips
The river & waterfall
http://shedwars.blogspot.co.uk/2012/10/big-rivers_21.html
The Bridge:
http://shedwars.blogspot.co.uk/2013/08/bridge-building-28mm.html
The Fort:
http://shedwars.blogspot.co.uk/2012/09/man-walls-building-fort-for-french.html
The Cabins:
http://shedwars.blogspot.co.uk/2012/09/28mm-log-cabins-larger-than-sheds.html